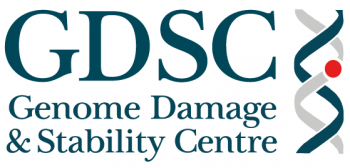 The GDSC is a research centre investigating the responses of cells to
genome damage and their relationship to cancer and other aspects
of human disease
The centre provides a dynamic and collaborative environment for state-of-the-art research and is supported by a variety of funding agencies including the BBSRC, CR-UK, MRC and the Wellcome Trust.
For more information about individual group leaders, and the types of research taking place in the centre, please see 'Research groups' tab at the top of the page.
Postdoctoral Researcher: Deciphering the molecular mechanism of a novel DNA repair complex
Closing date: 02 November 2017. Applications must be received by midnight of the closing date.
Expected start date: Within one month of 01 January 2018
Applicants are invited to apply for a BBSRC-funded postdoctoral position to study DNA repair mechanisms. Cells possess a myriad of DNA repair pathways required to maintain genome stability.
The aim of this project is to study the molecular mechanism of a recently discovered DNA damage repair complex. Specifically, we would like to identify the components of this repair complex and define its molecular mechanism by reconstituting this repair process in vitro.
Applicants must have extensive experience in using biochemical, biophysical and molecular biology techniques to study the molecular interactions and mechanisms of protein complexes involved in DNA / RNA repair, replication, CrispR, transcription or related cellular processes.
The successful applicant will join the Genome Damage and Stability Centre, an internationally renowned Institute carrying out research on the response of cells to DNA damage, genome instability and its relationship to disease.
Further details on this post can be found at
http://www.sussex.ac.uk/about/jobs/postdoctoral-research-fellow-2564
Other employment opportunites may be found at http://www.sussex.ac.uk/about/jobs/
| | | | |
| --- | --- | --- | --- |
| | | | |
| | | | |
| | | | |