'Doctor of the University' degree to be awarded to Sussex alumnus and BBC broadcaster, Clive Myrie
By: Stephanie Allen
Last updated: Tuesday, 22 January 2019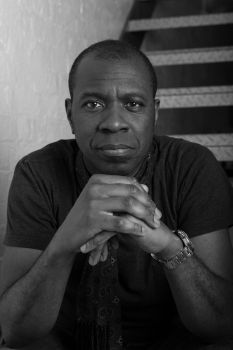 BBC broadcaster and University of Sussex alumnus Clive Myrie, is to receive an honorary Doctor of the University degree at Winter Graduation this week.
The journalist, who studied Law at Sussex in the 1980s, is being recognised for his journalistic achievements and building a career which has been an inspiration to many young people from diverse backgrounds.
He'll be presented his award by Professor of Political Journalism, Ivor Gabor on Thursday (24 January), in the ceremony for the Schools of Education and Social Work; Law Politics and Sociology; and Media, Film and Music.
Brighton & Hove Albion FC Manager, Chris Hughton, will also receive an honorary degree, presented by Professor Pete Newell later that day.
Clive Myrie is a multi-award winning journalist and one of the BBC's most experienced foreign correspondents, having reported from Tokyo, Washington, Paris, Brussels and Los Angeles as well as war zones in Afghanistan, Iraq and Kosovo. When he joined the BBC, shortly after graduating from Sussex, there weren't many black journalists on TV, but he has since become one of the broadcaster's most recognised faces and is currently the evening anchor on the BBC News Channel and a presenter on BBC Weekend News.
It was while studying at the University of Sussex that Clive Myrie began to hone his broadcasting skills, presenting his own music show on the student-run University Radio Falmer (URF) – an experience that lent him the opportunity of working for BBC Radio Brighton, as it was called back then.
Reminiscing about his years at the University, Clive said: "I had a lot of fun.
"Although I was a northern black kid, and out of the norm, I found a way of fitting in - the same as I did at grammar school in Bolton. I liked it that Sussex had a bit of an edge. I joined a rent strike within my first two weeks, but I wasn't really a firebrand or into student politics. I just got on with my journalism."
During the ceremonies, the University will be highlighting many students who have made a difference to their peers or in their communities, as well as, in Chris Hughton and Clive Myrie, two honorary graduates who, despite the barriers they have both faced, have gone on to achieve considerable success in their fields.
Adam Tickell, the University's Vice-Chancellor, said: "The University of Sussex is an institution with a proud history of developing inquisitive minds. Minds from all walks of life who, through sheer determination and unbounded spirit, will use their immense talent to go out and affect real change in their communities.
"Community - it's a powerful word. One that has a different meaning to many different people. For me, it is about shared sense of meaning, the ability to a look out into the world and decide what we can do together to change it for the better.
"This year's graduates from the University of Sussex are the embodiment of this and I wish them every success for their futures."
The University runs a number of schemes and initiatives that help to contribute to the wider community. One of those is the Citizens Advice Project, part of the University of Sussex Law department's Clinical Legal Education programme. This project, which recently won 'Advice Project of the Year' award at the Citizens Advice annual conference, sees Sussex law students advising their clients on a range of legal issues, such as housing, welfare and family law.
Read more about Clive Myrie in an interview here.