University news
University of Sussex awards honorary degree to Brighton & Hove Albion manager
By: Stephanie Allen
Last updated: Tuesday, 22 January 2019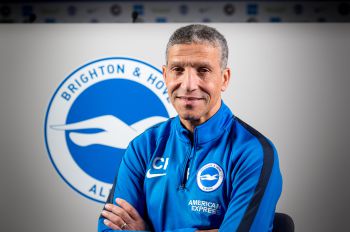 The University of Sussex will this week award an honorary degree to the Brighton & Hove Albion FC manager, Chris Hughton.
Chris has enjoyed a remarkable rise through the echelons of football management after spending the first 15 years of his post-playing career as a coach at Tottenham Hotspur. Appointed as Brighton manager on 31 December 2014, Brighton gained promotion just two and half years later. Since then, Brighton have secured survival in their first season in the Premier League and look set to repeat that feat in their second season this year.
Chris' achievements are all the more remarkable when seen through the prism of a sport that is vastly under-represented by black and minority ethnic (BAME) managers. At the time of writing, only five of the 92 English league clubs have BAME managers.
Chris will receive his honorary degree from Sussex on Thursday (24 January), as part of its Winter Graduation ceremonies.
Chris said: "It's a huge honour and something I certainly didn't expect.
"To do what we have done over the past four years with Brighton and to be honoured for that is something that is hugely humbling."
BBC journalist and newsreader Clive Myrie, who studied at Sussex in the 1980s, will also receive an honorary doctorate from the University on Thursday.
During the ceremonies, the University will be highlighting many students who have made a difference to their peers or in their communities, as well as, in Chris Hughton and Clive Myrie, two honorary graduates who, despite the barriers they have both faced, have gone on to achieve considerable success in their fields.
Adam Tickell, the University's Vice-Chancellor, said: "The University of Sussex is an institution with a proud history of developing inquisitive minds. Minds from all walks of life who, through sheer determination and unbounded spirit, will use their immense talent to go out and affect real change in their communities.
"Community - it's a powerful word. One that has a different meaning to many different people. For me, it is about shared sense of meaning, the ability to a look out into the world and decide what we can do together to change it for the better.
"This year's graduates from the University of Sussex are the embodiment of this and I wish them every success for their futures."
The University runs a number of schemes and initiatives that help to contribute to the wider community. One of those is the Citizens Advice Project, part of the University of Sussex Law department's Clinical Legal Education programme. This project, which recently won 'Advice Project of the Year' award at the Citizens Advice annual conference, sees Sussex law students advising their clients on a range of legal issues, such as housing, welfare and family law.
Chris Hughton, University of Sussex honorary graduate 2019 from University of Sussex on Vimeo.
Read more about Chris in an interview here.