Parents given tips on storytelling
Posted on behalf of: Centre for Teaching and Learning Research
Last updated: Monday, 20 February 2017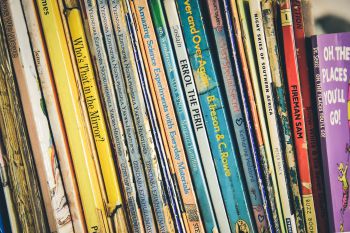 Parents learned how to bring storytelling into their children's lives at a recent event organised by researchers at the University of Sussex.
During the workshop at the Jubilee Library in Brighton, children aged 3-7 years old played with puppets and acted out three traditional stories – The Three Billy Goats Gruff, Goldilocks and the Three Bears, and The Three Little Pigs.
Parents, meanwhile, picked up tips from education expert Dr Sue Lyle about the tales they should be telling their little ones.
More than 100 parents and children attended the event earlier this month, which was organised by the Centre for Teaching and Learning Research (CTLR) at the University of Sussex.
The session was part of the CTLR's efforts to share the latest research with parents, and to build bridges between researchers and local communities.
Comments from parents after the event included: "It was brilliant!", "Really helpful. Great advice on what to read and who to read", and "My three-year-old loved it."
Dr Lyle answered questions from parents during the session, including whether bilingual mums and dads should be telling stories in both languages – which she encouraged.
She also discussed the work of the American academic Professor Alison Gopnik, who suggests that parents should act as 'gardeners', providing a rich environment for their children's personalities to unfold, rather than 'carpenters' who shape children to have a certain set of characteristics.
Dr Lyle, who has worked as a teacher and a teacher trainer for more than 40 years, described the event as "a marvellous way of taking research into the public space and sharing it with those who might be interested in it, in a way that is accessible to them".
Nancy Savage, Libraries Early Years & Bookstart Coordinator at Brighton & Hove City Council, added: "Sue managed to keep both young children and their parents and carers completely in her thrall for an impressive amount of time!
"It was a pleasure to work with Sussex University and we're looking forward to further partnership opportunities."
Thanks to everyone that came along to the @SussexCTLR event with Dr Sue Lyle at Jubilee Library on Saturday. We'd love to know you thought! pic.twitter.com/rywQpc8tX5

— B'ton&HoveLibraries (@BHLibraries) February 9, 2017
Dr Lyle was joined by Professor Gillian Hampden-Thompson, Director of the CTLR, and two other education researchers at Sussex, Dr Sindi Gordon and Dr Rebecca Webb, who also answered parents' questions.
Dr Gordon said: "We want to demystify the research that goes on at the University of Sussex and elsewhere by showing how this can be useful and relevant.
"Events like this are also valuable for the researchers, as the input we gain from parents could feed back into what we are studying."
The event follows on from another successful session organised by the CTLR at the Jubilee Library in the summer of 2016, where Dr Julia Sutherland at the University of Sussex shared her research into children's reading skills.
Dr Sutherland explained that the more children read, especially 'back-to-back' reading of whole books, the more they improve not only their vocabulary and reading skills, but their cognitive abilities.
More than 200 people attended this session, which was featured on local radio and on TV.
If you'd like to leave a comment, enter your ITS username, password, and your comment. The comment may need approval before it is displayed, so don't expect your comment to appear right away.
By submitting a comment you are agreeing to the Acceptable Use Policy.