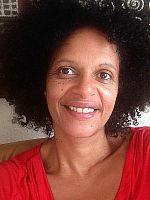 Dr
Sindi Gordon
Biography
PhD in Education (University of Sussex), MA in Creative Writing and Personal Development (University of Sussex), BA hons Caribbean, Spanish and Latin American Studies (London Metropolitan University).
Sindi has worked with a range of international organizations including the Johannesburg Biennale and South African Broadcast Corporation (South Africa), UNESCO (Zimbabwe) National Black Programme Consortium and Public Broadcast Corporation, PBS (USA). She founded an organisation in South Africa called Women of the Sun to offer support and training to women in the film industry. Her own films include State of Emergency which investigates the issue of violence against women in South Africa and includes a personal interview with former President Nelson Mandela. She was also a producer on a documentary series called Matters of Race (New York) for which she received the prestigious Henry Hampton Award for excellence in documentary filmmaking for We're Still Here'. She produced and presented radio programmes for WBAI (USA) and SABC (South Africa).
It was during the process of making films particularly on Native Americans reservations, such as White Mountain Apache, Navajo and Oglala Lakota that she revisited the importance for people to write their own stories. She began to work increasingly with local communities developing and teaching creative writing, life history and literature classes. She has co-edited a publication of poetry and prose Ink on my Lips and recently her own short stories have been published in MsLexia literary magazine and in a new anthology Tangled Roots. She was a consultant on an educational project based at the University of Brighton 'Unfolding Identities', which involves creating a DVD to facilitate engagement by school pupils in issues of cultural and racial diversity, belonging and identity.
RECENT PUBLICATIONS
Gordon, Sindi F. (2017) The Potential of Creative Life Writing as a Liberatory Practice. In Seedat, M., Suffla, S.and Christie, D.(eds.) Participatory Research: Peace and Critical and Community Psychology. Springer Publications, SA
Gordon, Sind F. (2017) Writing from the Self and the Liberatory Process of Reformulating Identities that Extends to and Beyond the Migratory Experience. In Livholts, M. and Bryant, L. (eds.) Social Work in a Glocalised World. Routledge.
Gordon, Sindi F. (2015) Skipworth Street's Bonfire Night. In Katy Massey (ed.) Tangled Roots True Life Stories About Mixed Race Britain. Tangled Roots Publications, UK
PRESENTATIONS & WORKSHOPS
Cape Peninsular Univeristy of Technology (CPUT), Cape Town, South Africa, October 2017, Developing realisable projects for Widening Success in Higher Education
University of East London Rapporteaur for Un/told-Un/conference - Digital Storytelling, July 2017
University of Sussex, ESW Open Research Seminar, April 2017, Working the Gap: Innovative Explorations of Challenging the Binary of Teaching and Research, paper delivered Speaking the Unspoken
University of Palermo, Stories in Transit: Telling the Tales of Times of Conflict, Sicily, Italy, September 2016, Symposium Contributor and Workshop Facilitator. Can culture, in particular storytelling in all its forms, provide a refuge for those who have lost their own homes?, paper delivered: Walk Good: New Ways of Thinking and Doing

Canterbury Christ Church University, ESREA European Society for Research on Education of Adults, March 2016, Symposium contributor to Resources of Hope. The place in researching learning lives, paper delivered entitled: Krik? Krak! The Imaginative Space for a Radical Change
York St Johns University, June 2015, Symposium contributor to Creative Writing in the World, paper delivered entitled: The dialogical relationship between memory and imagination as an emancipatory process
University of Brighton, June 2015, Annual Festival of Social Science, paper delivered entitled: Unlocking a Narrow Discourse of Diversity.
Role
Research Fellow (including teaching); Director of Equality and Diversity; Academic Advisor