Roos's story
Roos Bruggink graduated from Sussex with an undergraduate degree in Biochemistry, and now she works in corporate social responsibility at Pfizer. Roos spoke to us about her time at Sussex working with E.Coli and making aspirin, and how her degree was instrumental for her career path.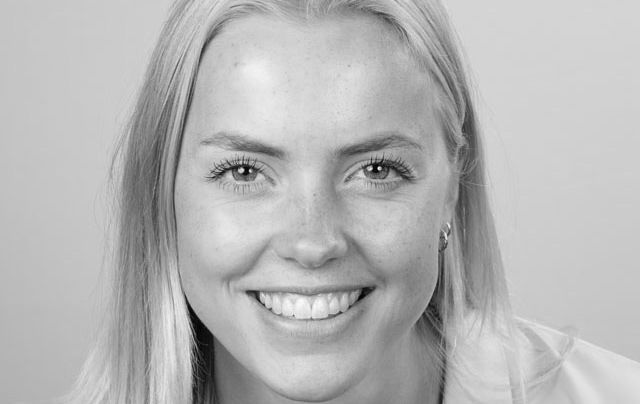 ---
How biochemistry helped Roos's career in corporate social responsibility
Roos Bruggink works at Pfizer in the Global Health & Social Impact team, where she works on schools outreach programmes, diversity & inclusion and colleague volunteering.
What made you choose biochemistry at Sussex?
"The placement scheme was a major factor in choosing to study Biochemistry at Sussex - my degree title was 'Biochemistry, with an industrial placement year'.
"It was the hottest day of the year when I visited Sussex and it seemed perfect for my lifestyle. It's a campus uni, with the city of Brighton in very close proximity and a very good social scene. Uni is about studying, but also finding out more about yourself and having fun - Sussex definitely ticked all the boxes.

"The Biochemistry lecturers are at the top of their game, I got to learn from leaders in the industry and choose modules I was interested in."
What was your standout memory of your time on the course?
"The many lab projects & getting hands on with the lab equipment. Over the years I spent many hours in the lab, from working with E.Coli to making aspirin - not every student can say that."
What were you proudest of?
"Securing a placement at one of the biggest pharmaceutical companies in the world in the oncology team and having the opportunity to support them with a new product launch - I really wasn't expecting that!"

What experiments/modules were your favourite?
"For me, innovation in bioscience was my favourite module. I am passionate about sustainability and culture change to empower others to become more sustainable. This module bought together the United Nations Sustainable Development Goals and sciences."
What are you doing now?
"I'm now working at Pfizer in the Global Health & Social Impact team - that basically means I'm working in the corporate social responsibility (CSR) team in the UK.
"Day to day I work on colleague volunteering, Pfizer UK's schools outreach programmes, diversity & inclusion, our environment, along with other core CSR initiatives such as colleague match-funding for charities. I really love what I do."
How did your degree at Sussex help you in your career?
"My degree was critical to gaining my current job. I applied to Sussex Biochemistry with an Industrial Placement Year. That meant in my second year I took time applying for internships at companies and was fortunate enough to be accepted into one of the top pharmaceutical companies in the world in their oncology team.
"During my placement year I had the opportunity to work on many different projects, one being with the colleague engagement team and I am thankful that after graduating I was offered a secondment there. When that ended I moved to the corporate social responsibility team.
"I am grateful to Sussex for all the support given, expertise shared and friendships formed over 4 years."
---
---
You might also be interested in: