Lois's story
Lois Barber graduated from Sussex with an undergraduate degree in Biochemistry, and now she works for Deloitte in their Intellectual Property Advisory team. Lois spoke to us about her time at studying a degree that combined two of her key interests - biology and chemistry.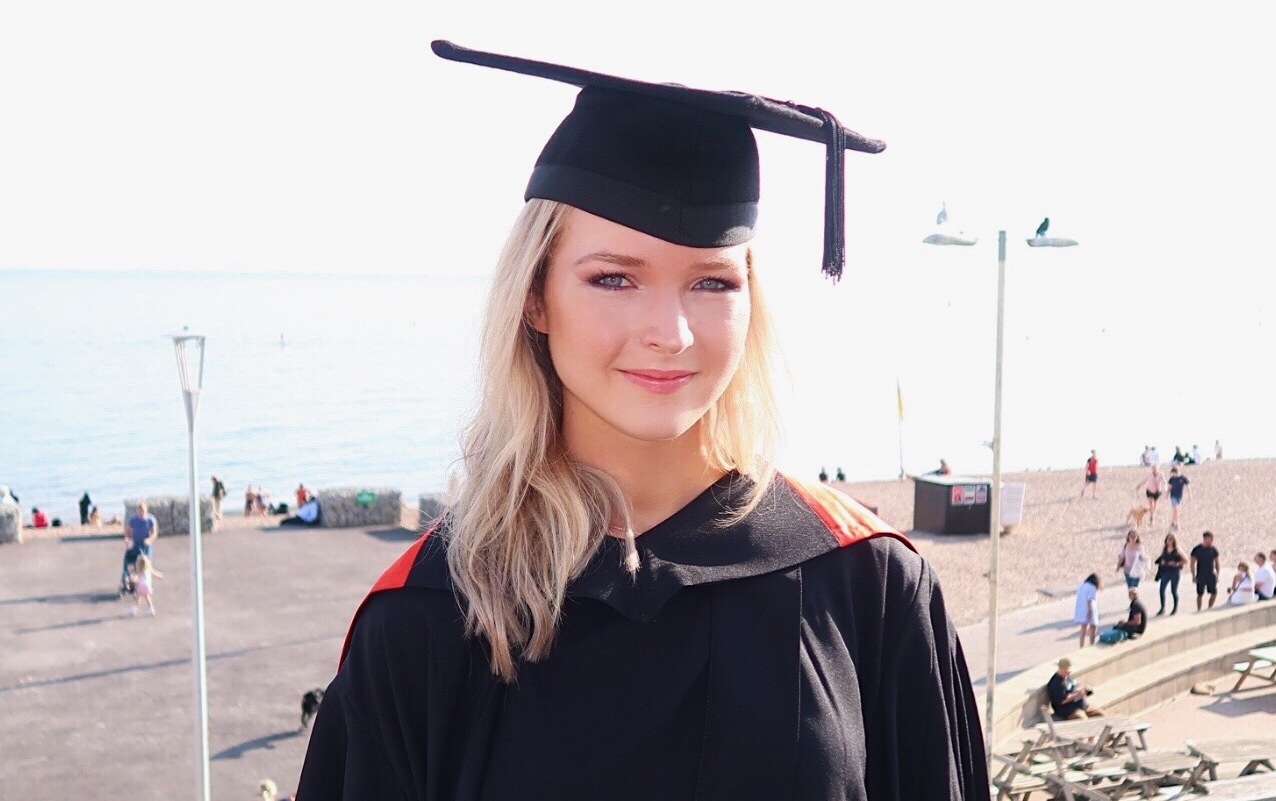 ---
How biochemistry helped Lois's career in intellectual property
Inspired by one of her modules, Lois Barber's interest in Intellectual Property law led her to working for Deloitte's IP Advisory team.
What made you choose biochemistry at Sussex?
"From studying both biology and chemistry at A Level, I knew that I wanted to apply for a course that combined both of my key interests together, so biochemistry was the perfect fit for me.
"I chose to study at Sussex because of its high reputation for quality teaching and research, as well as its scholarships for academic achievement at A Level.
"Another major factor that contributed to my decision to study at Sussex was the University being situated in an ideal location—close to the beach, Brighton city centre, and the South Downs!"
What was your standout memory of your time on the course?
"My standout memory was completing my dissertation project during my third year.
"I chose to conduct my research on ferroptosis and its role in cancer cell death, and was supported by a fantastic supervisor. After writing the whole project up in a scientific paper form, we had to present our findings to supervisors and colleagues.
"This project provided me with crucial experience in managing and presenting my own research, and many of the skills I learned have been useful even in my career outside of biochemistry."
What were you proudest of?
"My proudest moment was being a student mentor.
"During my first and second years at Sussex, I regularly attended mentoring drop-in sessions organised by the School of Life Sciences to obtain advice on various topics, including writing lab reports and preparing for presentations.
"This first-hand experience inspired me to apply in my third year to become a mentor myself, because I knew how beneficial those support sessions were in developing my academic skills."
What experiments/modules were your favourite?
"The Cell Regulation and Cancer module (second year) and the Innovation in Bioscience and Medicine module (third year) were my favourite modules.
"The first because I have always been interested in the molecular mechanisms of cancer, and the latter because this module offered more of a business perspective on scientific research and commercialisation that was not covered in other modules."
How did your degree at Sussex help you in your career?
"The Innovation in Bioscience and Medicine module first incited my interest in the field of Intellectual Property (IP) law, and how businesses can extract value from technical advances they have invented through patents and other forms of IP.
"With my biochemistry degree I was able to apply for a Master's degree in Management of Intellectual Property and a Postgraduate Certificate in Intellectual Property Law at Queen Mary University of London, which provided me with a solid foundation and understanding of UK and EU IP law for my career."
What are you doing now?
"Since completing the IP courses, I have been working at Deloitte in their IP Advisory team. We provide IP strategy, management and transactional services to multinational companies, SMEs and academic institutions.
"I have been able to combine my biochemistry technical background with my IP knowledge to provide consultancy services to clients across multiple industries, including Life Sciences and Healthcare."
---
---
You might also be interested in: