An online research forum between University of Sussex researchers and local stakeholders to foster collaboration on sustainability issues.
About the event
Sustainability is not only a global issue, but also a local one. It is urgent for us on the South Coast to work together to tackle the climate emergency, achieve net zero emissions, protect biodiversity and realise a sustainable food system. With that in mind, the Sussex Sustainability Research Programme (SSRP) at the University of Sussex organised an online research forum to kindle greater cooperation between university researchers and the local community.
It was free to attend and open to all those interested in finding out more about current research with a local sustainability focus, and in generating ideas for cooperating on new research.
The event was split into two themed parts: Part A - The climate emergency and green recovery, and Part B - Biodiversity and the food system. Researchers and representatives from local stakeholder organisations were invited to attend both parts, or the part that best suited their interests.
Aims of the research forum:
To inform participants about University of Sussex findings from research related to local sustainability issues.
To hear the views of stakeholders about how further research could help address local sustainability priorities. 
To intensify the dialogue between researchers and stakeholders on how new research and research partnerships can catalyse greater sustainability in the region.
Recordings
Watch the recording for Part A - The climate emergency and green recovery: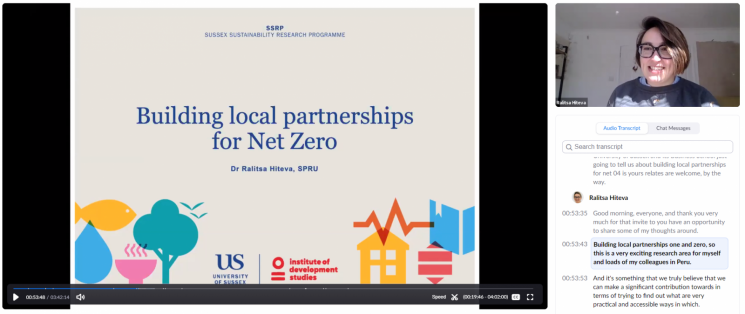 Watch the recording for Part B - Biodiversity and the food system: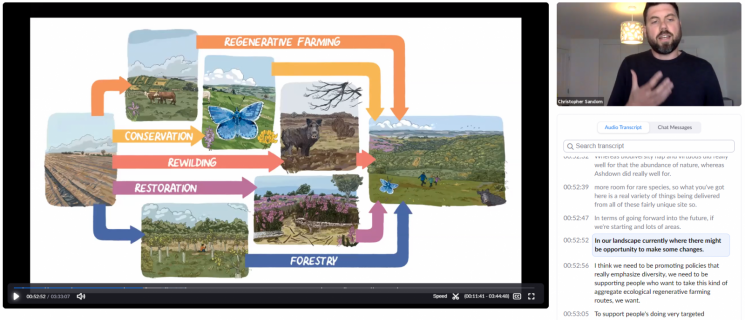 These recordings are very long and the individual breakout group discussions were not included so appear blank in the recording. Therefore please skip forward to find the plenary presentations where necessary.
Zoom's automatic transcripts are available for each recording, however please note they may not be 100% accurate in places. If you have any questions, please contact: ssrp@sussex.ac.uk.
Event report
Read the report of the South Coast Sustainability event summarising key points of discussion and next steps.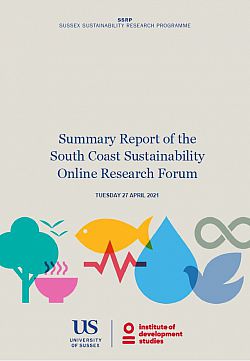 Programme
Part A: The climate emergency and the green recovery
09:00-09:30
Plenary
Time to ramp up partnerships between researchers and stakeholders on sustainability (10 min) Joseph Alcamo, Professor of Environmental Systems Science, Director of the Sussex Sustainability Research Progamme (SSRP), University of Sussex
The sustainability strategy of the University of Sussex (10 min) Samantha Waugh, Sustainability Manager, University of Sussex
How can science help with sustainability locally? (10 min) Andy Arnold, Environment Team Manager, East Sussex County Council
09:30-09:45
Break
09:45-10:45
Session A-1 (Chair: Joseph Alcamo, Director of SSRP)
Sussex research:
Opportunities for increasing soil carbon in Sussex (7 min) Dave Goulson, Professor of Biology, School of Life Sciences, University of Sussex
Building local partnerships for Net Zero (7 min) Ralitsa Hiteva, Research Fellow, Science Policy Research Unit (SPRU), University of Sussex Business School
Home energy conservation: reducing emissions in Brighton and Hove (tentative title) (7 min) Marie Claire Brisbois, Lecturer in Energy Policy, Science Policy Research Unit (SPRU), University of Sussex Business School
Breakout groups:
Dialogue between stakeholders and researchers. What are stakeholder priorities and how can research support these priorities? (30 min)
10:45-11:00
Break
11:00-12:00
Session A-2 (Chair: Joseph Alcamo, Director of SSRP)
Sussex research:
Towards a local Green New Deal (7 min) Tim Foxon, Professor of Sustainability Transitions, Science Policy Research Unit (SPRU), University of Sussex Business School
A green stimulus for housing (7 min) Donal Brown, Research Fellow,Science Policy Research Unit (SPRU), University of Sussex Business School
Assessing alternatives for decarbonising heat (7 min) Esra Sorguven, Senior Lecturer in Fluid Mechanics and Thermodynamics, School of Engineering and Informatics, University of Sussex
Breakout groups:
Dialogue between stakeholders and researchers. What are stakeholder priorities and how can research support these priorities? (30 min)
12:00-12:45
Reports and summaries from breakout sessions in A-1 and A-2 (30 min)
Closing remarks:
Working together for sustainability in the region (15 min) Councillor Phélim Mac Cafferty, Leader of Brighton & Hove City Council


Part B - Biodiversity and the food system
14:00-14:30
Plenary
Time to ramp up partnerships between researchers and stakeholders on sustainability (10 min) Joseph Alcamo, Professor of Environmental Systems Science, Director of the Sustainability Research Progamme (SSRP), University of Sussex
The sustainability strategy of the University of Sussex (10 min) Samantha Waugh, Sustainability Strategy, University of Sussex
How can science help with sustainability locally? (10 min) Sarah Dobson, Programme Manager: The Living Coast, Brighton & Lewes Downs UNESCO Biosphere
14:30-14:45
Break
14:45-15:45
Session B-1 (Chair: John Thompson, Deputy Director of SSRP)
Sussex research:
Diverse land use for diverse benefits (7 min) Christopher Sandom, Senior Lecturer in Biology, School of Life Sciences, University of Sussex
The UK Food Systems Doctoral Training Academy: Opportunities for local stakeholders to get involved (7 min) Pedram Rowhani, Senior Lecturer in Geography, School of Global Studies
How understanding bee behaviour can improve pollination services (7 min) Beth Nicholls, Research Fellow, School of Life Sciences, University of Sussex
Breakout groups:
Dialogue between stakeholders and researchers on sustainability. What are stakeholder priorities and how can research support these priorities? (30 min)
15:45-16:00
Break
16:00-17:00
Session B-2 (Chair: John Thompson, Deputy Director of SSRP)
Sussex research:
Transdisciplinary research towards sustainable agri-food systems in Brighton & Hove (7 min) Adrian Ely, Reader in Technology and Sustainability, Science Policy Research Unit (SPRU), University of Sussex Business School
Access to growing spaces in Brighton - lessons from Covid-19 (7 min) Bonnie Holligan, Lecturer in Property Law; and Helena Howe, Lecturer in Law, School of Law, Politics and Sociology, University of Sussex
Circular economy for reducing food waste and food poverty - the context of South East England (7 min) Shova Thapa Karki, Senior Lecturer in Entrepreneurship and Sustainability, University of Sussex Business School
Breakout groups:
Dialogue between stakeholders and researchers on sustainability. What are stakeholder priorities and how can research support these priorities? (30 min)
17:00-17:45
Reports and summaries from breakout sessions in B-1 and B-2 (30 min)
Closing remarks:
Working together for sustainability in the region (15 min) Lloyd Russell-Moyle MP, Brighton Kemptown