We've worked hard to build a programme that offers our scholars the very best experience at Sussex.
The Leverhulme Doctoral Scholarship Programmed brings scholars together in a coherent progamme emphasising a vertical integration from basic mechanisms of sensation and perception present in many species, through advances in robotics and AI, all the way to subjective experiences of immersion in perceptually rich worlds that are, at least in part, constructed by us (e.g., music, visual culture).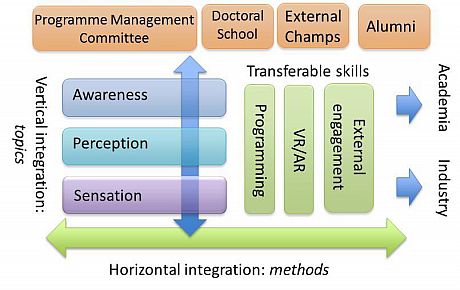 Stimultaneously, a horizontal integration is implemented through multidisciplinary supervision and training opportunities in programming, technology, and external engagement, designed to provide a strong platform for high-level careers both within and outside academia (and increasingly, crossing both).
What do we offer?


Dedicated research training opportunities. Specialist training workshops are offered, tailored to the needs of the cohort, particularly to develop advanced technical and analytical skills. We expect most candidates to undertake Masters-level module in Matlab (presently run as a weekly class over 8 weeks in Spring Term), but there are other options depending on needs and interests (e.g. modules in Maths and Computational Models for Complex Systems; Functional Magnetic Resonance Imaging).
Training in public engagement. Public engagement is increasingly highlighted as a key capability for researchers of all kinds. Sussex has an enviable reputation in this area. Each year there will be full-day masterclass to foster public engagement skills in a highly interactive format.
The opportunity to lead research activities from an early stage, including seminar and conference organisation, backed by robust dedicated administrative support and funding.
Advice and guidance from our External Champions, drawn from the intersection of academia and industry, who will visit Sussex annually to meet with students. Our current external champions are Prof Murray Shanahan (Imperial College London and DeepMind), Dr Tom Smith (Data Science Campus) and Dr Ryota Kanai (Araya Brain Imaging). Champions may be able to arrange short-term research visits, depending on what is practical.
The chance to apply for a postdoctoral research fellowship to capitalise on doctoral research. The scheme provides for three twelve-month (full time, available also part time) positions, with one position allocated to each cohort. These fellowships will be offered on a competitive basis but will be available only to Leverhulme scholars, and will be paid at a competitive postdoctoral salary rate.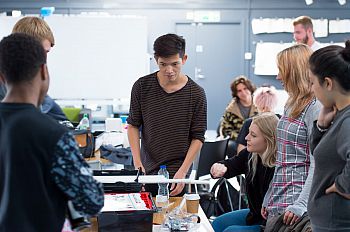 How will our Scholars contribute?
Leverhulme scholars will be primarily embedded in the School of their primary supervisor, and will follow the general PhD requirements of that School (e.g. with regards to an annual appraisal; documentation of supervisory meetings; etc.) In addition, Leverhulme scholars will contribute to building their own distinctive inter-disciplinary community by:
Attending, participating in, and helping organise monthly seminars
Attending, participating in, and helping organise an annual themed event
Attending and participating in ad hoc workshops linked to the programme
Attending and participating in at least one MSc-level module aimed at developing transferrable skills (e.g., in programming)
These events are open to others across campus in order to develop the wider research theme of 'Sensation, Perception and Awareness'. Administrative and financial support will be provided to students where needed for this.