Outreach & engagement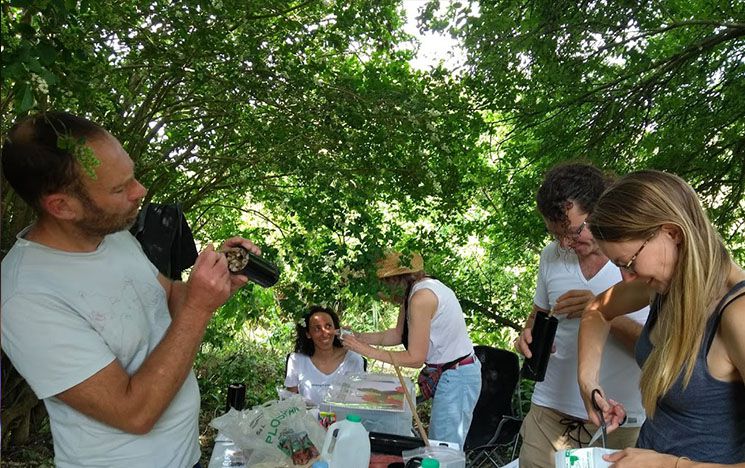 We love telling all kinds of people, young and old, about the amazing world of bees and pollination. We regularly contribute activities to science outreach events, such as Nerd Nite and Brighton Science Festival, and give talks to local schools and interest groups, such as the Brighton Permaculture Trust AGM (2019), Brighton Allotment Federation (2017; 2018) and Moulsecomb Forest Garden (2020). We have even had an art exhibition focussed on our work on bees and pesticides.
Want to build your own bee hotel to attract solitary bees to your garden, allotment or school? Download our free guide.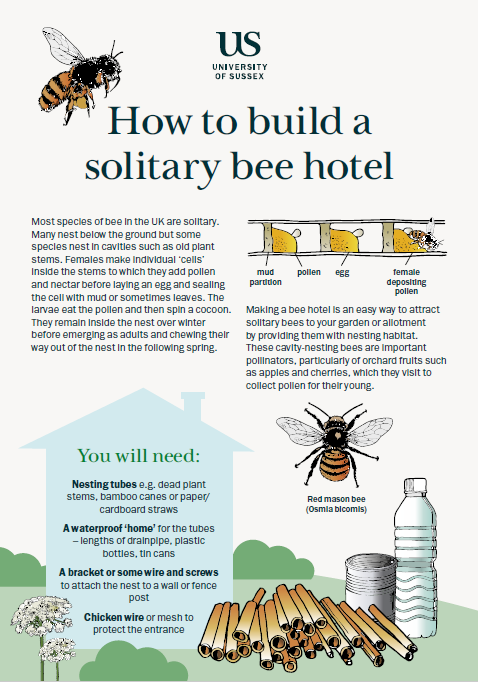 In June 2022 Beth was awarded the Kroto Award for Public Engagment in Life Sciences. You can watch her acceptance speech below.
In 2017 we were awarded a British Ecological Society Outreach grant to run a citizen science project with local primary schools on solitary bees. In 'Perfect Pollinators' schools were provided with three observation nests which they placed in a South, East and West-facing position and recorded which nest was the first to be inhabited by bees and which had the most activity and completed nests at the end of the season.
Other outreach activities include bee identification walks, blossom tours, DIY bee hotels, the pollination game (our youngest 'contestants' have been under 3!), and 'pollen detectives'- making microscope slides of pollen to find out where the bees have been.
We are founder members of The Buzz Club- a citizen science club for gardeners and volunteer scientists of all ages to answer important questions about garden wildlife. Our Team PollinATE pages also have lots of resources for studying pollinators at home.
We are committed to widening participation in science, and lead on the organisation of Soapbox Science Brighton, an annual event designed to showcase the research of women in STEMM fields in the South East. Read more about our involvement in this interview for Womanthology.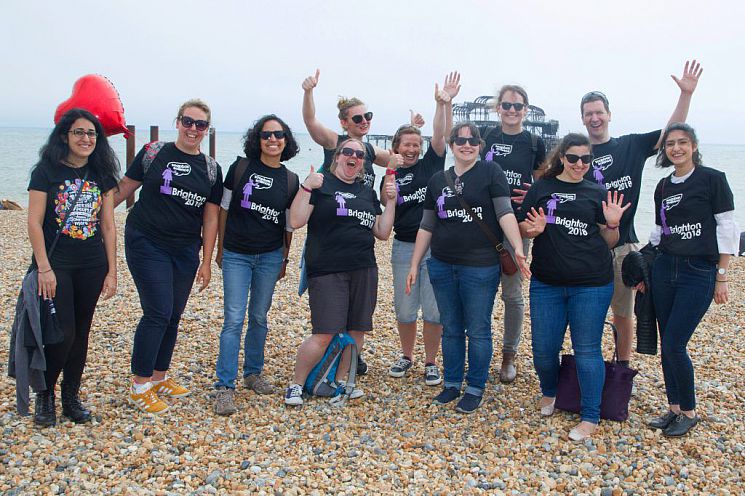 Media Coverage
Our research has been featured on Countryfile, BBC Radio 4's The Today Programme and The World at One, Farming Today and BBC Radio Sussex. In 2017 we were interviewed by the amazing George McGavin for a BBC World Service documentary on bees.
In 2018 we were interviewed on BBC Spotlight about our work on peri-urban farming, alongside volunteers from the Team PollinATE project. In 2021 results from the study were featured in the Guardian, Times, Telegraph and Independent newspapers as well as several smaller horticultural publications. We were also interviewed on BBC Radio 4's The World at One and BBC Radio Kent about the project, and had a mention on Radio 4's Today programme and BBC Radio 2. It was fantastic to see such interest in the potential of urban growing!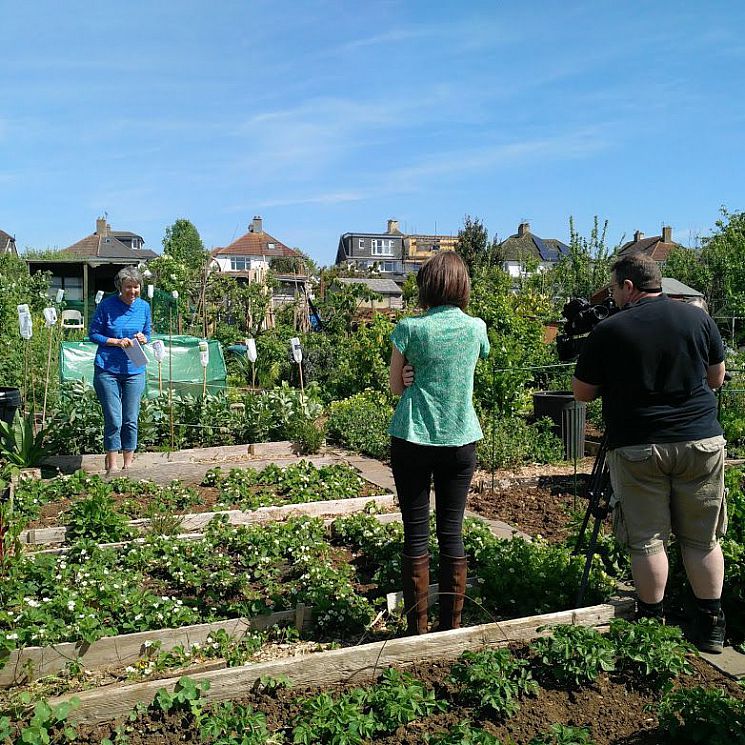 In 2016 the New York Times wrote an interactive article about our work on pollen foraging which has also been featured in the Telegraph newspaper.
In 2019 Beth was interviewed on the fantastic Planet PhD Podcast.