Open positions
Our aim is to foster an environment where you feel supported to conduct science of the very highest standard, science that you feel excited about and proud to share, both within the scientific community and beyond. We will work with you to support your professional development, and help you prepare for and further your career, be that within or outside of academia.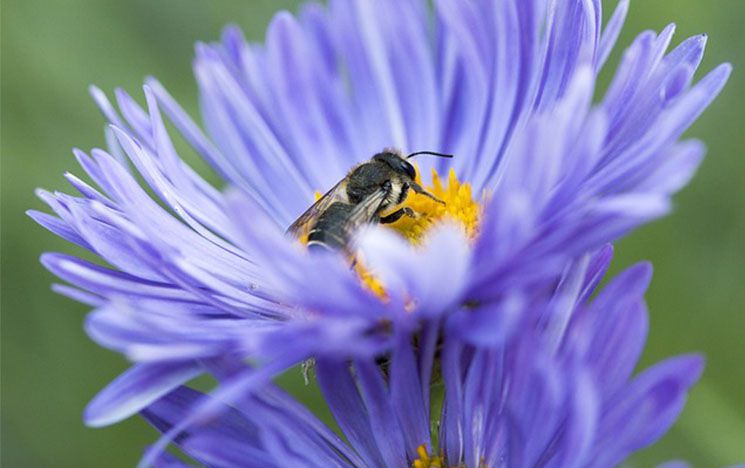 Our approach and philosophy*:
We adhere to the principles of scientific integrity (UK Research Integrity Office website) and always aim to produce research of the highest possible standard
We respect and support our colleagues and the wider scientific community
We favour collaboration over competition
We maintain a healthy work-life balance and recognise that resting and doing fun things outside of our work are very important
We actively encourage and support diversity of all kinds and are committed to fostering an inclusive working environment and widening participation in science
We are open to novel ideas, approaches and collaborations outside our discipline(s)
We are passionate about communicating our research and involving diverse stakeholders in the scientific process
*Our lab philosophy was inspired and shaped by the following research lab statements: Cooper lab, Russell lab, Aly lab and Peelle lab.
Open Positions
Unfortunately we currently do not have any open positions in our lab. I would be happy to support collaborations or independent fellowship applications, please contact me on e.nicholls@sussex.ac.uk to discuss in the first instance.
PhD studentships:
We are currently offering a PhD project for an October 2023 start as part of the South Coast Biosciences Doctoral Training Partnership (SoCoBio DTP), a 4-year funded research training programme. In partnership with Prof Dave Goulson and Dr Daniel Ingram at the Durrell Institute of Conservation and Ecology (DICE), University of Kent, we are offering a project entitled 'Perennial Crops for Sustainable Cities'. You can find out more via this link to the project page, and you can apply to the DTP via the SoCoBio DTP website. For an informal chat, please contact Dr Beth Nicholls e.nicholls@sussex.ac.uk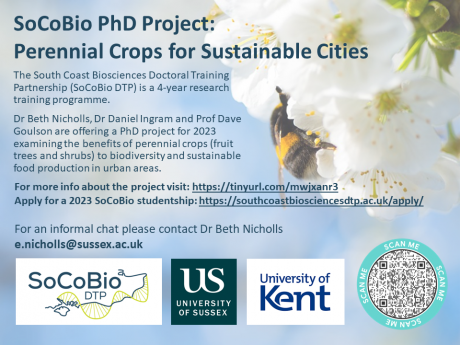 We also have a funded PhD position co-supervised by Dr Jorge Gutierrez-Merino at the University of Surrey using a novel approach to predicting bee health by quantifying the microbiome of the whole colony. Funding is available for 3.5 years for UK students only. For more information please contact J.Gutierrez@surrey.ac.uk
Apply here by 6th January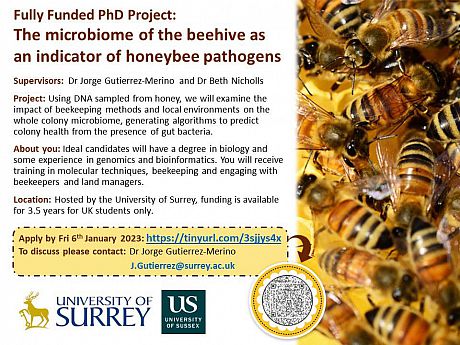 If you are interested in food systems research more broadly, you might consider applying to the UK Food Sytems Centre for Doctoral Training (link to CDT website).