The Sussex Modernism Project – making new connections and changing perceptions
What is the significance of Modernism here and now? For Hope Wolf, Lecturer in British Modernist Literature at Sussex, this is the central question the Sussex Modernism Project aims to explore. Comparing different media, types of Modernism and Modernist communities, she hopes to shed new light what Modernism can offer us today.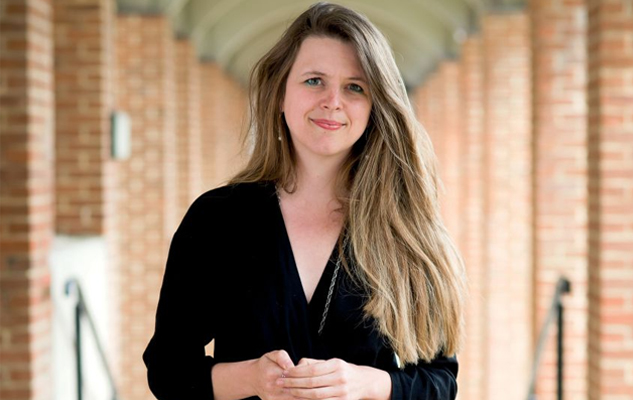 Hope Wolf, Lecturer in British Modernist Literature.
As a location for Hope's research, Sussex is ideal. Many of the leading writers, artists, composers, architects and patrons of British Modernism lived in the county at pivotal points in their lives – from Virginia and Leonard Woolf, Vanessa Bell and Duncan Grant to Roland Penrose, Lee Miller and Edward Elgar. Sussex is also rich in modernist architecture. The University of Sussex is a prime example of Sir Basil Spence's work, with Rick Mather's Towner Gallery in Eastbourne and Loftus and Grieve's Jerwood Gallery in Hastings the latest additions to Modernist public architecture in Sussex.
Collaborating with curators and archivists at Culture East Sussex, Charleston, Towner Gallery Eastbourne, Ditchling Museum of Art and Craft, Jerwood Gallery in Hastings, Farley Farm Surrealist House, and Brighton Museum and Art Gallery to showcase their collections, Hope is creating a narrative that connects the collections and enables new understandings of the relevance of Modernism to our lives now. Making an archive or a collection shouldn't just be about preserving, she argues. It's the process that matters and which can lead to changes in thinking.
"One of the things that Modernist communities were doing was exploring ways of bringing art and life together more closely," argues Hope. For them, experimental artistic and literary practice wasn't separate from the ways they lived their lives, and some of the Modernist sites she is looking at offer alternative ways of living. "That message is important for people today," she says. "It's almost as if we need a set of alternatives where we perhaps feel frustrated with contemporary society. The Sussex Modernism Project can show the relevance of art to us all."
Another great benefit of the research is that it's getting people across Sussex more excited about where they live. "Through a series of public talks at the Towner and at the De la Warr Pavilion, we're getting people to look at Modernist sites and collections more closely. We're gathering groups of people who are interested in Sussex Modernism and giving them a much richer understanding of the area, but we're also learning a huge amount from them. It's great to hear how they feel about living near sites such as the De La Warr Pavilion or the murals painted by the Bloomsbury artists at Berwick Church. We also get to share their insights about Modernist work we may not have given enough thought to previously or simply don't know about."
For Hope, research should be always be a dialogue. "It's about starting a conversation not knowing where it's going to lead, having your own perceptions challenged and challenging other people's. There's a kind of alchemy that happens as part of that conversation."
---
Centre for Modernist Studies
Find out more about the Centre for Modernist Studies.
---
Last updated: 14 October 2016
---