News and events
Postgrad boom at University of Sussex sets up biggest-ever winter graduation
By: James Hakner
Last updated: Tuesday, 31 January 2017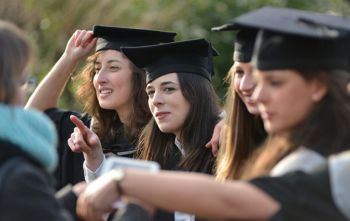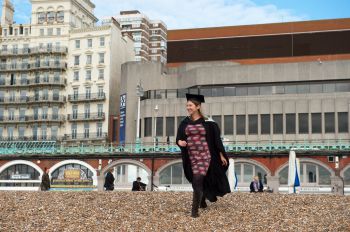 A record 2,300 degrees and diplomas – mainly Masters and PhDs – will be awarded at the University of Sussex's winter graduation ceremonies this week.
The bumper graduation – 20 per cent bigger than last year - follows a boom in the number of postgraduate students at the University in recent years, bucking the nationwide slowdown in the number of people choosing to study for a Masters.
This resurgence has been driven by a multi-million-pound scholarship programme, introduced by Sussex in 2013 to expand the postgraduate community.
Professor Adam Tickell, the University's Vice-Chancellor, said: "Behind every degree we are awarding this week is an inspiring, personal story of some kind.
"Studying for a postgraduate degree often means juggling work, childcare and many other life commitments.
"We didn't want one of those obstacles to be money, which is why we have invested so heavily in postgraduate scholarships.
"Our pay off comes this week when we have the privilege to celebrate with a record number of postgraduates, many of whom may not have otherwise had this opportunity.
"Every one of them should feel enormous pride, as I do, in their achievement. I know that many of them are already doing great things in the local community and further afield."
The University's flagship package is the Sussex Graduate Scholarship, for Sussex students who get a 1st or 2:1 in their undergraduate degree and are accepted onto a Masters. In its first year, this doubled the number of such students progressing directly onto a Masters degree at Sussex.
The University also created the Chancellor's Masters Scholarship – for top students joining from other universities – and a host of international scholarships.
The University's Chancellor, the actor and broadcaster Sanjeev Bhaskar OBE, will lead the four ceremonies, which take place on Thursday 26 and Friday 27 January.
For the first time since the 1990s, the ceremonies will take place at the Brighton Centre, while the usual venue, Brighton Dome, is refurbished.
The graduands represent more than 100 countries, including China, Italy, Japan, Mexico, Nigeria, Palestine, Syria, Turkey and the USA, while nearly a quarter are drawn from East or West Sussex.
The proceedings will be streamed live to their friends and families across the UK and around the world.
Many of those graduating are already making an impact in their chosen field, in the UK or abroad, including:
The University will also award honorary degrees to three remarkable individuals from wider society:
Multiple-prize-winning author, playwright, academic and journalist Ali Smith, author of novels and collections including Hotel World, The Accidental, Girl Meets Boy, Free Love and Other Stories, There But For The, Artful, How to Be Both and Autumn
Mathematician Professor John Toland, a leading expert in rigorous mathematical analysis of partial differential equations, especially those arising in hydrodynamic wave theory
Clinical psychologist Professor Dame Til Wykes, an international leader in understanding and advancing rehabilitation and recovery for people with severe mental illness.
The University has awarded honorary degrees for more than five decades as a way to recognise extraordinary achievements beyond the world of education, and to inspire graduating students as they embark on the next stage of their lives.
Further information: http://www.sussex.ac.uk/newsandevents/events/winter-graduation-2017