About Sussex Neuroscience
Sussex Neuroscience is one of the University of Sussex's four flagship research programmes. Our aim is to advance our understanding of one of the last frontiers of science – the brain and nervous system – and apply it for the benefit of society.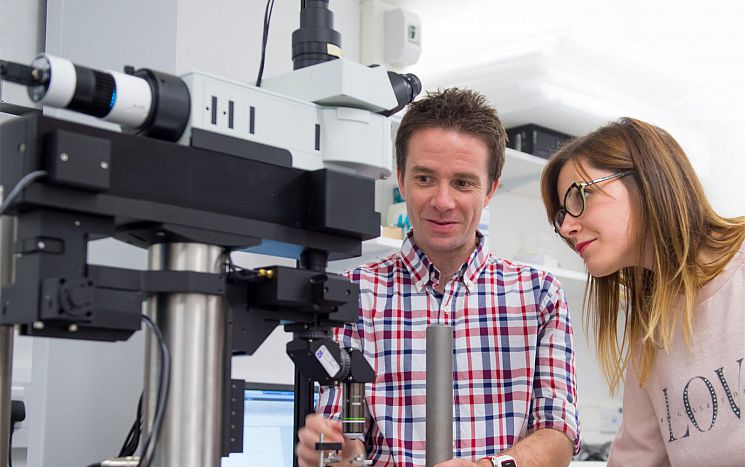 Key facts
The University of Sussex was the first university in the UK, and perhaps the world, to offer a degree in Neuroscience commencing in 1970-71 with the BSc in Neurobiology
Neuroscience research at Sussex has a top ten position in the UK as evidenced by the last UK Research Excellence Framework (2014)
Sussex Neuroscience is comprised of around 50 Principal Investigators distributed across four academic schools: School of Life Sciences; School of Psychology; School of Engineering and Informatics; and the Brighton and Sussex Medical School (BSMS)
Members of Sussex Neuroscience hold around £45M in open awards from funders including The Wellcome Trust, BBSRC, MRC, The Leverhulme Trust.
Contemporary neuroscience research requires the integration of expertise, approaches, and technologies from a diverse array of scientific disciplines. Sussex Neuroscience acts as a focal point to unite these different research strands, and provides a strategic oversight for this key area. A generous investment by the University of £3 million in 2013 was followed by further inward and external investments. These have helped to create an outstanding research environment that supports an ambitious suite of activities. These include:
a highly successful 4-year PhD Programme in which students undertake three lab rotations in Year 1 before choosing their final research project for Years 2-4
funding for two advanced technical posts that enable us to leverage cutting-edge methods such as connectomics in human neuroimaging, and in vivo optical imaging in freely moving animals
extra support for researchers at all stages of the career such as: Junior Research Assistantships for undergraduates; funds for attending or running training workshops for our PhD community; bursaries to support the costs of care/childcare whilst researchers attend conferences
matched-funding for multi-user equipment bids up to £30K
funding for a weekly seminar series, an annual event, and various social occasions for the benefit of the whole community
The SN Team: The Directors of Sussex Neuroscience (Professors Miguel Maravall, Louise Serpell) together with the Programme Manager (Dr Ruth Staras) are responsible for: developing and running activities that build and celebrate our neuroscience research community at all career stages; representing the neuroscience community to the University; and for delivering longer-term strategic priorities (e.g. facilitating larger-scale grant bids).
Sussex Neuroscience is an inclusive community whose members come from a wide diversity of backgrounds and locations. Much of our support for PhD students and early career researchers is designed to provide equity. We seek to foster the careers, and the participation in neuroscience, of researchers from groups who continue to be under-represented in academia and research. Through our regular seminar series, events and open meetings we help to facilitate great opportunities for mentorship, collaboration and a positive research culture.
You might also be interested in: