News and events
Award-winning Sussex scientist is brains behind neuroscience book for kids
By: James Hakner
Last updated: Tuesday, 19 April 2016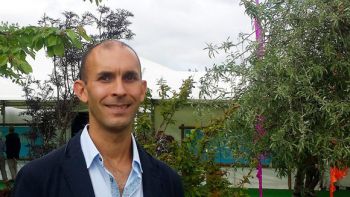 A children's book exploring the brain in bite-sized chunks has been co-authored by a University of Sussex scientist.
A cognitive and computational neuroscientist, Professor Anil Seth has once again teamed up with author Clive Gifford to create The Human Brain in 30 Seconds. The pair won the Royal Society Young People's Book Prize in 2014 for their book of optical illusions, called Eye Benders.
Professor Seth, co-Director of the Sackler Centre for Consciousness Science, was chief consultant for both books.
Professor Seth said: "Eye Benders focused on visual illusions as a way of introducing how the brain works - it is mainly about the visual brain.
"Our new book provides a more general introduction to the brain, its different parts, and how it achieves thinking, feeling, moving, and lots of things as well as vision. But we still tried to find fun and accessible exercises to do."
Each topic is presented in a neat 30-second soundbite, supported by a three-second flash summary and full-page, colourful illustration. Fun, active 'missions' support the topics and encourage kids to find out more. With stunning artwork, the attention-grabbing format is engaging and immediate, introducing readers aged from eight up to this fascinating part of their bodies.
Professor Seth added: "Kids have a great instinct for what is interesting! Brains are these mysterious, squishy lumps of stuff on which so much depends. We all have one but we never see it. Children find this fascinating I think.
"It's important to engage with the next generation, to try to inform and inspire a little. Clive Gifford has been doing this very successfully for a long time, and together we try to create books which, while aimed at kids, carry some serious content and message - beyond saying just 'wow look at this!'"
Professor Seth's research focuses on how the brain generates conscious experiences; what he calls "the most interesting problem in science". He is committed to public engagement and outreach, including appearances on TV and radio and in print and online.