Teaching and supervision
Sussex has a longstanding reputation for migration teaching and supervision, including introducing the first MA in Migration Studies in the UK. Come and join our large and friendly community of migration scholars.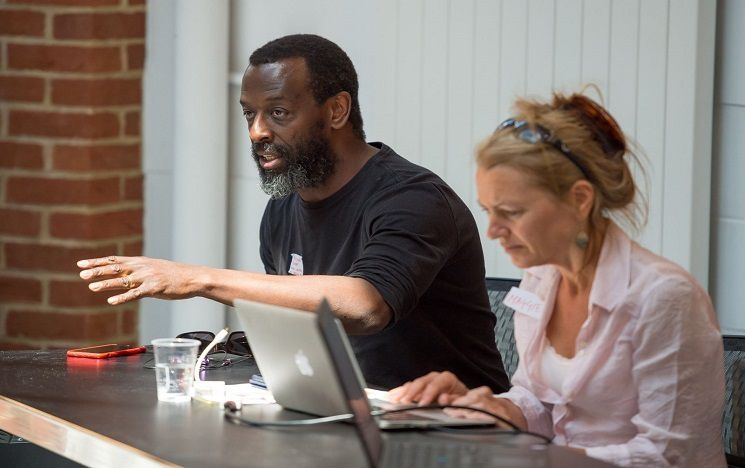 Two presenters delivering a seminar in a lecture theatre at the University of Sussex campus (Photo: University of Sussex, 2019)

Study migration with us
You can study migration at Sussex as an MA student or a PhD researcher. Many SCMR members are also involved in teaching modules on migration at undergraduate level too.
Masters degrees
The School of Global Studies offers two exciting Master degrees in Migration Studies, taught by internationally-recognised migration scholars and building on Sussex's global reputation for impactful research.
Migration and Refugee Studies MA
Migration and Global Development MA
My MA allowed me to take stock of my career and focus on a field I am really passionate about. The course content, variety and academics' input was excellent and the programme was complemented by a wealth of extra events hosted by the department, which really boosted the experience."

Anahita Hossein-Pour


MA Migration and Global Development
PhD in Migration Studies
We convene a PhD in Migration Studies, and SCMR faculty also supervise migration-related research topics across the university's PhD programmes; for example in International Development, Geography, Human Rights, Law, History, and many more. To see who might supervise your PhD, and hear more about our doctoral researchers, please see the SCMR people page.
Undergraduate teaching on migration
SCMR faculty teach a number of undergraduate modules on migration on various undergraduate degrees based in the School of Global Studies, the School of Law Politics and Sociology, and the School of Media Arts and Humanities. These include: Understanding Global Migration; The Anthropology of Migration; Mobilities and Global Inequalities; Refugees, Migrants and Religion; and, Migration, Identity and Home.
The postgraduate researcher view
We asked some of our current PhD Researchers why being part of SCMR was important to them:
It's an opportunity to engage with a lively community of migration researchers... as well as being updated on the latest research about migration."

Camila Monteiro pereira


Researching migratory communities in the Amazon region of Roraima
It [SCMR] gives a sense of community both socially and academically, and we can postively influence public and policy-makers' awareness of the challenges facing immigrants."

eman Alatawi


Researching the representation of migrants in the UK and Saudi Arabian press