Partnerships
SCMR has a strong presence within international networks of migration scholars and practitioners, as well as within migrant communities. We benefit from the strong partnerships and connections we've built over decades.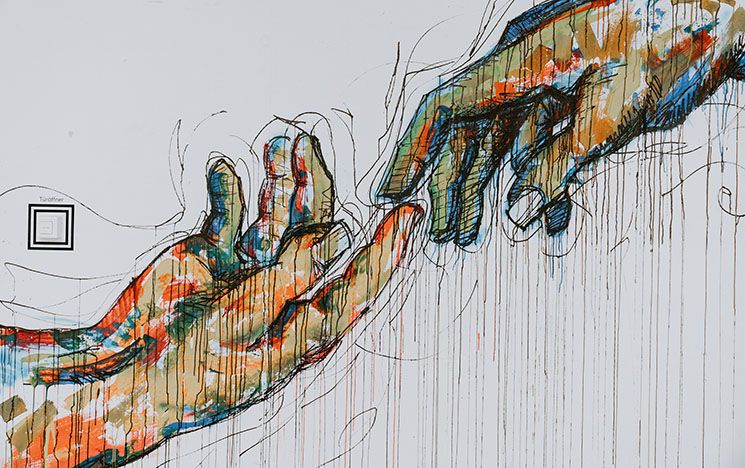 Colourful hands reaching to each other (Photo: Schwarz, 2019)
Research and community partnerships
Below we highlight some of the many partnerships SCMR members benefit from.
Sussex-Mahidol Migration Partnership (SMMP)
We have an institutional partnership with Mahidol University, which has resulted in a number of research projects related to Thai migration and diaspora, as well as attracting doctoral researchers from Thailand.
You can read more about the partnership at the SMMP website.
IMISCOE network
SCMR is an institutional and founder member of the IMISCOE network (the International Migration Research Network), the largest interdisciplinary network of scholars in the field of migration. IMISCOE hosts annual conferences, a PhD network and PhD academy, awards prizes for papers and doctoral theses. IMISCOE is also home to a number of thematic standing committees, which SCMR members are actively involved in. For example, the standing committee on Gender and Sexuality in Migration Research (GenSeM) is coordinated by SCMR members Sarah Scuzzarello and Laura Morosanu.
Sanctuary movements and related activities
SCMR members are actively involved in various sanctuary-related activities in the local area, including supporting Brighton and Hove's Sanctuary on Sea, and nationally, via the Council for At-Risk Academics (CARA). SCMR members also are part of the Sussex's University of Sanctuary committee. Our students are often actively involved in local migrant-support organisations too, and the Sussex Student Action for Refugees society (STAR).
SCMR expertise has also fed into research activities in the local area, for example Improving Education for Refugee Background Students in the Brighton area, conducted in partnership with Hummingbird and Sanctuary on Sea. Similarly, in the Optimising Refugee Resettlement work, which explored the experiences of resettled refugees who arrived in the UK through the UK's resettlement programme, including those resettled in Brighton.
IOM research partners panel and work on reintegration with Samuel Hall
SCMR is a research partner registered with the IOM's Migration Research Division. We have also partnered with Samuel Hall, a research social enterprise, contracted by IOM to provide independent evaluation and research on various aspects of IOM's work, particularly in the area of return migration and reintegration.
Our work with Samuel Hall is a good example of combining academic interests with practitioner needs. For example, our evaluation of IOM's mentoring program for return migrants resulted in both a comprehensive report for IOM, as well as a journal article about the research for a special issue on the geopolitics of return migration and reintegration, edited by SCMR member Russell King and SCMR alumna Zana Vathi.
Research partnerships
SCMR research is global in scope and we have partnered with other universities and research organisations across the world. There are too many to list here, but you can read about partners on specific research projects on the SCMR research page.
Funders
Research conducted by SCMR members has been funded by various organisations, including: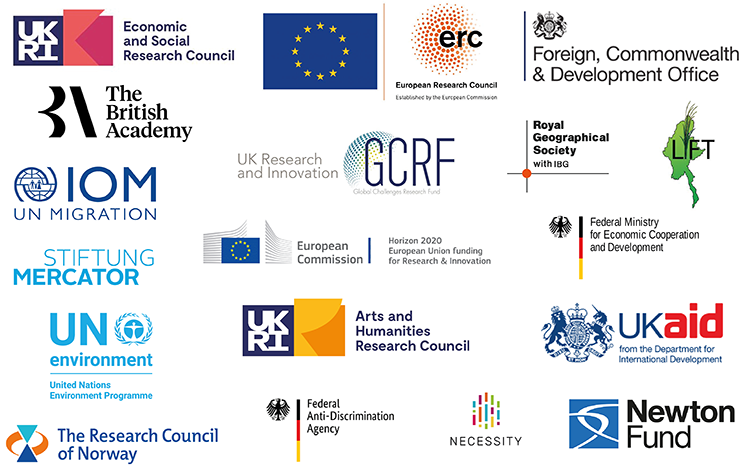 Funders of SCMR research include: ESRC; AHRC; The European Union; FCDO and UKRI GCRF; British Academy and British Academy Newton Fund; IOM; The Research Council of Norway; UNEP; Stiftung Mercator; German Federal Agencies; The Royal Geographical Society; The Livelihoods and Food Security Fund.