Featured pre-print
Modelling Phenomenological Differences in Aetiologically Distinct Visual Hallucinations Using Deep Neural Networks
Keisuke Suzuki, Anil K. Seth, David J. Schwartzman
Visual hallucinations (VHs) are perceptions of objects or events in the absence of the sensory stimulation that would normally support such perceptions. VHs offer fascinating insights into the mechanisms underlying perceptual experience, yet relatively little work has focused on understanding the differences in the phenomenology of VHs associated with different aetiologies (causes). For instance, VHs arising from neurological conditions, visual loss, or psychedelic compounds have substantial phenomenological differences between them.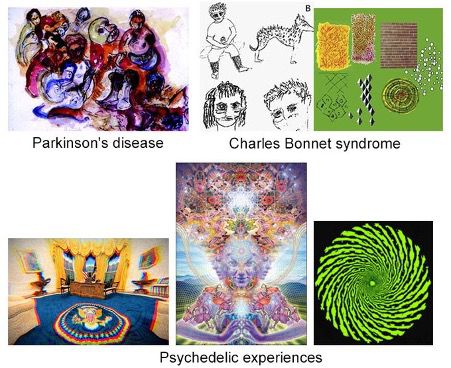 Here, we examine the potential mechanistic basis of these differences by leveraging recent advances in visualising the learned representations of a coupled classifier and generative deep neural network. Using this coupled deep neural network architecture, we generated synthetic VHs that captured three dimensions of hallucinatory phenomenology which broadly characterise variations in VHs: their realism (veridicality), dependence on sensory input (spontaneity), and complexity.
We verified the validity of this approach experimentally in two separate studies that investigated variations in hallucinatory experience in neurological and CBS patients and people with recent psychedelic experience. Both studies first verified that the three phenomenological dimensions usefully distinguished the different types of hallucination, and then asked whether the appropriate synthetic VHs were able to capture specific aspects of hallucinatory phenomenology for each aetiology. In both studies, we found that the relevant synthetic VHs were rated as being most representative of each group's hallucinatory experience, compared to other synthetic VHs produced by the model.
Our results highlight the phenomenological diversity of VHs associated with distinct causal factors and demonstrate how a neural network model of visual phenomenology can successfully capture the distinctive visual characteristics of hallucinatory experience. The novel combination of deep neural network architectures and a computational neurophenomenological approach provides a powerful approach towards closing the loop between hallucinatory experiences and their underlying neurocomputational mechanisms.
Amaya, I., Behrens, N., Schwartzman, D.J., Hewitt, T., Schmidt, T.T. Effect of frequency and rhythmicity on flicker light-induced hallucinatory phenomena PsyArXiv

Suzuki, K., Seth, A.K., Schwartzman, D.J. Modelling Phenomenological Differences in Aetiologically Distinct Visual Hallucinations Using Deep Neural Networks bioRxiv
2022
Barnett, L., Seth, A.K. Inferring the temporal structure of directed functional connectivity in neural systems: some extensions to Granger causality arXiv
Barnett, L.C., and Seth, A.K. (2021). Dynamical independence: Discovering emergent macroscopic processes in complex dynamical systems. arXiv
Chang, A. Y-C., Seth, A.K. & Roseboom, W. Neurophysiological signatures of duration and rhythm prediction across sensory modalities. bioRxiv
Damsma, A., Schlichting, N., van Rijn, H. & Roseboom, W. Estimating Time: Comparing the Accuracy of Estimation Methods for Interval Timing.
Francken, J., Beerendonk, L., Molenaar, D. Fahrenfort, J., Kiverstein, J., Seth, A., van Gaal, S. An academic survey on theoretical foundations, common assumptions and the current state of the field of consciousness science. PsyArXiv
Hofmann S.M.*, Klotzsche F.*, Mariola A.*, Nikulin V.V., Villringer A., Gaebler M. Decoding subjective emotional arousal from EEG during an immersive Virtual Reality experience. bioRxiv (*shared authorship)
Jaquiery, M., Andermane, N., Chrisley, R. Trajectory changes are susceptible to change blindness manipulations. BioRxiv
Lush, P. Order effects in the rubber hand illusion PsyArXiv
Lush, P., Dienes, Z., Seth, A.K., Scott, R.B Trait phenomenological control predicts visually evoked auditory response.PsyArXiv
Lush, P., Seth, A., Dienes, Z., & Scott, R. B. (2022). Trait phenomenological control in top-down and bottom-up effects: ASMR, Visually Evoked Auditory Response and the Müller-Lyer illusion. PsyArXiv
Mediano, P.A.M., Rosas, F.E., Barrett, A.B., & Bor, D. (2020) Decomposing spectral and phasic differences in non-linear features between datasets. arXiv 2009.10015.
Mediano, P., Rosas, F., Carhart-Harris, R.L., Seth, A.K., Barrett, A. Beyond integrated information: A taxonomy of information dynamics phenomena arXiv
Mediano, P.A.M., Rosas, F.E., Timmermann, C., Roseman, L., Nutt, D.J., Feilding, A., View Kaelen, M., Kringelbach, M.L., Barrett, A.B., Seth, A.K., Muthukumaraswamy, S., Bor, D., & Carhart-Harris, R.L. (2020). Effects of external stimulation on psychedelic state neurodynamics. biorXiv 2020.11.01.35607
Millidge, B., Tschantz, A., Seth, A.K., Buckley, C. Relaxing the constraints on predictive coding models arXiv
Rhodes, D., Seth, A.K., Roseboom, W. Multiple duration priors within and across the senses. BioXiv
Rosas, F., Mediano, P., Rassouli, B., Barrett, A. An operational information decomposition via synergistic disclosurearXiv
Schwartzman, D.J., Schartner, M.M., Ador, B.B., Simonelli, F., Chang, A, Y.-C., Seth. A.K. Increased spontaneous EEG signal diversity during stroboscopically-induced alterered states of consciousness. BioArXiv
Seth, A.K., Korbak, T., Tschantz, A. A continuity of Markov blanket interpretations under the Free Energy Principle. arXiv.org
Seth, A., Roseboom, W., Dienes, Z., Lush, P. What's up with the Rubber Hand Illusion? PsyArxiv
Sherman, M., & Seth, A. (2021). Effects of expected task difficulty on metacognitive confidence and multitasking. PsyArXiv
Sherman, M.T., Seth, A.K., & Barrett, A.B. Quantifying metacognitive thresholds using signal-detection theory.biorXiv 36154
Suzuki, K., Mariola, A., Schwartzman, D.J., Seth, A.K Using extended reality to study the experience of presence
Tschantz, A., Baltieri, M., Seth, A.K., Buckley, C. Scaling active inference arXiv:1911.10601
Tschantz, A., Millidge, B., Seth, A.K., Buckley, C. Reinforcement learning through active inference arXiv
Yarrow, K. & Roseboom, W. Should multisensory temporal acuity be viewed through the window of perceived simultaneity? PsyArXiv