Exploring phenomena such as somnambulism, synaesthesia, and disorders of memory and consciousness, it examined ideas around the nature of consciousness, and in particular what can happen when our typical conscious experience is interrupted, damaged or undermined.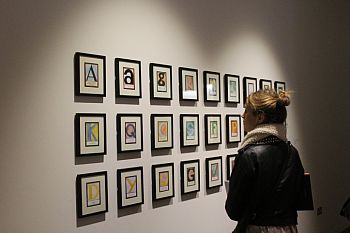 Alphabet in Colour: Illustrating Vladimir Nabokov's grapheme-colour synaesthesia, by Jean Holabird.
David Schwartzman and Anil Seth also created a bespoke interactive iPad application that introduced key questions about consciousness science and demonstrated simple visual illusions that demonstrate different aspects of our conscious experience. The app was used by visitors waiting to enter 'yellowpinkblue'. There were over 30,000 visitors to 'yellowpinkblue' most of whom interacted with this application, highlighting the Sackler Centre and the University of Sussex to a wide audience.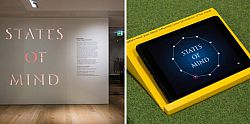 David Schwartzman also created an interactive exhibit based on research at the University of Sussex, which showed that non-synaesthetes can be trained to "see" letters of the alphabet in colour in a way that simulates how people with synaesthesia experience their world (Scientific Reports, 2014, 4:7089).
This exhibit allowed participants to try some of the training tasks used in this study to give visitors a glimpse of what it might be like to be synaesthetic.