News
Joanna Callaghan's Goodbye Breasts! exhibition opens on 24 October!
Posted on behalf of: The School of Media, Arts and Humanities
Last updated: Monday, 9 October 2023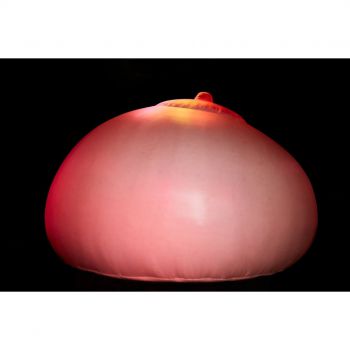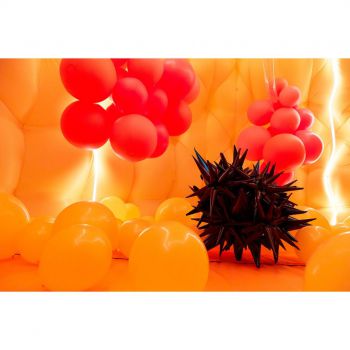 We can't quite believe that Professor of Filmmaking Joanna Callaghan's much anticipated 'Goodbye Breasts!' exhibition opens at The Dance Space, Brighton, next month!
A love letter, a farewell, and a giant boob, Goodbye Breasts! welcomes you to an inspiring artistic exploration of breast cancer and the journey to recovery. This unique project, by filmmaker Joanna Callaghan, combines an immersive art installation, engaging talks, hands-on workshops, and a thought-provoking documentary,
Joanna has shared her motivations and lived experience behind this work: "In 2017, I faced breast cancer and discovered I carried a high-risk breast cancer gene, PALB2. Just as I was considering a preventative mastectomy, a second breast cancer diagnosis came in 2020. Cancer can be incredibly traumatic, but more of us are surviving. We need more stories of recovery to guide us in integrating these experiences into our lives. I'm committed to creating space for dialogue about challenging topics—where we can listen, understand, and empathise."
The heart of the Goodbye Breasts! exhibition is an art installation that sparks conversations about breast health. Step into The Big Breast and discover a colourful wonderland where breast anatomy is playfully reimagined.
The Big Breast will firstly be at The Dance Space from 24-28 October 2023 and, in association with the exhibition, Joanna is taking part in a roundtable event 'The Art of Listening: What can creativity bring to health care change?' on Wednesday 25 October 6pm - 7.30pm at Sallis Benney Theatre, University of Brighton. This roundtable brings together artists, patients, charities, medical professionals, academics, health advocates and the public to discuss the challenges faced by arts and health and the need for meaningful dialogue and partnership in order to explore the possibilities for creative thinking and mutual goals. This event is a collaboration between the Centre for Arts and Well-Being, University of Brighton and the School of Media, Arts and Humanities at the University of Sussex.
For more details and to register for The Art of Listening.
Joanna will also be taking part in an artist talk at The Dance Space on Friday 27 October 3-4pm to discuss the background and development of the Goodbye Breasts! project. The exhibition at The Dance Space Brighton will be open to the public on the same day for drop-in visits.
For more details and to register for Goodbye Breasts! Artist Talk.

Goodbye Breasts! aims to provide a creative space where stories can be told and heard, bringing people of all ages and backgrounds into the discussion, and providing alternative ways to listen and hear from those affected by the issues. We cannot wait to visit the Big Breast and engage with the many rich and generative dialogues that will emerge from this vital research project! Join the conversation #MyBreastsMyStory.