News
The Coast is Queer 2023
Posted on behalf of: School of Media, Arts and Humanities
Last updated: Tuesday, 19 September 2023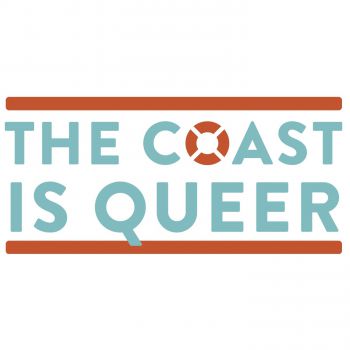 Brighton & Hove's celebration of LGBTQ+ writing, The Coast Is Queer returns for its fourth year! Taking place between 12-15 October 2023, the Coast is Queer celebrates queer lives and literature, bringing together writers, poets, performers, activists and academics for three lively days of in-conversation events, workshops, films and discussions.
This year, guest speakers include Sussex alumni Michael Handrick (Difference is Born on the Lips) and Sussex lecturer Sam Ladkin (Perfectly Disgraceful: Frank O'Hara's New York School and Mid-Century Mannerism). Screenwriter and Sunday Times number 1 bestseller Juno Dawson (Her Majesty's Royal Coven) will also be returning, this time featuring Harry Nicholas (A Trans Man Walks into a Gay Bar).
Sussex alumni MNamug (co-founder of Aghh! Zine) will be running a zine-making workshop with Nuria Castro (United, by Work Show Work, Where are you a local? by Silvergrass Press and Letters to Lovers Zine), an Open Mic Night will will feature poets Reanna Valentine, AFLO the poet, and Priss Nash, hosted by Fuschia Von Steele. Writers Max Lobe (Confidences on the war of independence of Cameroon) and Okechukwu Nzelu (The Private Joys of Nnenna Maloney) will be in a timely conversation to discuss queer literature's contribution to exploring and exploding all kinds of boundaries and borders.
Dr Samuel Solomon, Senior Lecturer in English Literature and Creative Writing and steering committee member of the Centre for the Study of Sexual Dissidence is on the festival's advisory board and has been part of the programming team since the festival's first year:
"I'm honoured to continue to work with our long-term collaborators at New Writing South and Marlborough Productions to produce this fabulous festival, and I'm proud to have it on our campus at ACCA for the second consecutive year. It's been a privilege this year to continue to embed Sussex students, staff, and alums into our programming and to mentor the student curating team. The programme is diverse and the atmosphere is always welcoming; I encourage all to come along!"
Sam will be running a workshop alongside Jackie Stacey, (Professor and co-director of the Centre for the Study of Sexuality and Culture in Manchester), working with creative writing, politics and "queer theory".
View the full schedule on the Coast is Queer website.
Festival and Day Passes are live with Early Bird Offers and a scaling price, which include student discounts. Grab yours now!
Further information: https://coastisqueer.com/