News
Recording artist helps nurture musical talent through new scholarship
By: Stephanie Allen
Last updated: Thursday, 25 February 2021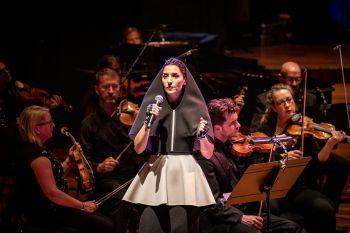 A successful recording artist and University of Sussex alum is helping to nurture new musical talent by supporting a scholarship at the University.
Gazelle Twin, otherwise known as Elizabeth Bernholz, is a composer and producer who graduated from Sussex in 2006 with a BA in Music. She's since gone on to release five studio albums under her Gazelle Twin pseudonym, including The Quietus' 2014 Album of the Year UNFLESH.
After previously returning to campus to deliver a masterclass to Sussex students, and perform at the Attenborough Centre for Creative Arts, Gazelle Twin is now lending her name to a new scholarship to further nurture young talent.
The Gazelle Twin Scholarship for Women in Music Technology is available to a woman, trans or non-binary applicant taking up a place on a Music or Music Technology BA at the University of Sussex in 2021.
Gazelle Twin described the scholarship as 'absolutely excellent,' saying she is 'thrilled to be thought of as an inspiration for this purpose.'
As well as lending her name to the scholarship, Gazelle Twin will also be returning to the University, to give talks and workshops to current Music students.
Women are currently estimated to make up just 5% of the music technology industry, with research showing that young women drop out of music tech around the age of just 16.
This new scholarship has been created to encourage women, trans and non-binary students to pursue a career in the field of music, starting with a degree from the University, whose music department values diverse backgrounds, experimentation and different musical styles.
The scholarship, which is funded by University of Sussex Music Department alumni, will grant one student a monetary gift of £500 in their first year at Sussex, money which could make a huge difference to a student in need of equipment to pursue their musical interests.
Dr Mimi Haddon, Lecturer in Music at the University of Sussex, said: "We are so grateful to Gazelle Twin for lending her name to this scholarship, which we hope will encourage more young women to pursue their passion for music within higher education. It's time for women, trans and non-binary people to take up space in what has historically been a male-dominated field.
"The Music Department at Sussex seeks to support and nurture those who want to kick-start their career. The Music and Music Tech degrees are taught by a mixed gender team, including two leading women technologists (Dr Alice Eldridge and Dr Evelyn Ficarra), and an expert in gender and popular music (Dr Mimi Haddon).
"We offer a range of topics—from the cultural study of popular music to songwriting, performance, and composition to cutting-edge expertise in music technology with modules that include studio practice, coding, AI, and instrument building. Sussex Music Department has a long tradition of being at the vanguard of music experimentalism. We want to continue this tradition and we consider gender equality as central to twenty-first-century music."