Research and procedures involving animals
We are committed to meeting or exceeding all external ethical and regulatory requirements for research involving animals.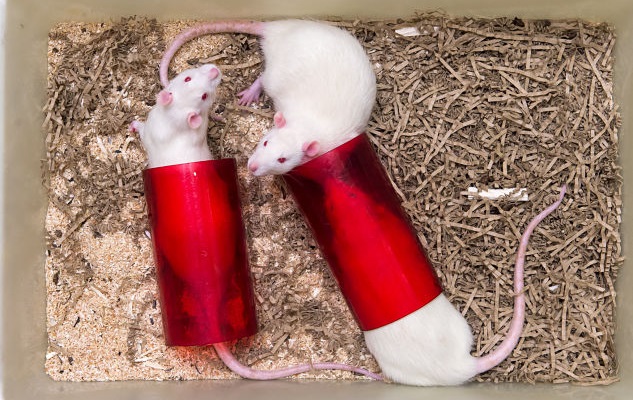 Rats housed in our animal facility, which operates to the highest standards of animal care and welfare. All research is only performed after animal welfare and ethical review has taken place.
Animal research at the University of Sussex
We are a signatory to the Concordat on Openness in Animal Research, which aims to help the public understand how and why animals are used on its behalf in scientific, medical and veterinary research in the UK. The University's position is set out in a formal statement that includes the statistics on the use of animals in research that are returned annually to the Home Office.
Research using animals has made, and continues to make, a vital contribution to the understanding, treatment and cure of major human health problems; including cancer, heart disease, polio, diabetes and neurological diseases and disorders. While new methods have enabled scientists and medical researchers to reduce studies involving animals, some work must continue for further fundamental advances to be made, but only after weighing the potential benefits of the research against the effects on the animals concerned.
In the UK, research and teaching activities involving animals considered to be sentient are governed by a range of legislation, including the Animals (Scientific Procedures) Act, 1986 and, in the case of teaching to veterinary students, the Veterinary Surgeons Act 1966. Compliance of research involving these species is monitored by University staff and by the Home Office through its inspectors.
The University is committed to the principles of reduction, refinement and replacement (the 3Rs). On each project it ensures that the number of animals used is minimised and that procedures, care routines and husbandry are refined to maximise welfare.
The University is also committed to the development of a number of alternative methods such as computer modelling, tissue culture, cell and molecular biology, and human clinical research. Animal procedures are replaced with non-animal techniques wherever possible. Where the use of animals remains essential, the University of Sussex is committed to a culture of care and respect for animal welfare.
The University's Animal Welfare and Ethical Review Body review process
The University's AWERB review process involves lay representation (including a representative from an animal welfare organisation) and other members both external and internal to the University. It provides ethical advice on standards of animal care, welfare and accommodation and ensures that those working with animals are aware of their responsibilities and receive appropriate training. Veterinary and animal care staff are actively involved in the ethical review of research, welfare and care of animals and provide ongoing advice and support to researchers where appropriate.
In the case of animal research proposals, which are not covered by the Animals (Scientific Procedures) Act 1986, the Principle Investigator, or Supervisor (in the case of student projects) is still required to apply for approval through the University's review process.
AWERB meeting minutes (redacted)
---
You might also be interested in: