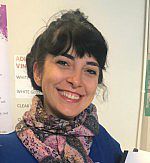 Dr
Ebru Demir
Biography
Ebru completed her PhD and was awarded the degree of Doctor of Philosophy in December 2019.
Ebru submitted her thesis on 5th April 2019 and passed her Viva on 16th August 2019 (examiners Dr Catherine O'Rourke and Dr Elizabeth Craig).
In her thesis, Ebru examines the ongoing transition period in Bosnia and Herzegovina by applying the theory of 'gender transformative justice'.
She holds an LLM degree in International Law from the University of Nottingham Law School (Merit - %67). In her master's dissertation, Ebru studied 'the right to internal self-determination and local ownership in post-conflict communities' (Distinction - %72).
She graduated from the Istanbul University Faculty of Political Sciences in 2011 (upper second-class honours 2:1).
She holds the scholarship of the Republic of Turkey for her PhD studies.
Academia: https://sussex.academia.edu/EBRUDEMIR
Professional Affiliations:
Editorial Assistant for Feminist Encounterns (January 2020 - present)
Book Review Editor for International Feminist Journal of Politics (since October 2019)
Contributor of International Law blog INTLAWGRRLS (since November 2018)

Associate Fellow of The Higher Education Academy (AFHEA) (date of recognition: July 2017)
Co-organiser of NGender (September 2016 - May 2017) - NGender is a gender and sexuality research collective organised by postgraduates at the University of Sussex
Organising Team Member of NGender (September 2015 - May 2016)
Member, University Sussex Law Society (USLS)
Member, Sussex Centre for Conflict and Security Research (SCSR), University of Sussex
Member, Centre for Cultures of Reproduction, Technologies and Health (CORTH), University of Sussex
Member, Rights and Justice Research Centre, University of Sussex

Member, Socio-Legal Studies Association (SLSA)
Supervisors:
Role
Editorial Team Member for Feminist Encounters (January 2020 - present)
Book Review Editor for IFJP (October 2019 - present)
PhD in International Law (September 2015 - December 2019)
Associate Tutor (Spring 2017, Spring 2018 & Spring 2019)
THESIS TITLE: Theory and Practice of Gender Transformative Justice: The Case of Bosnia and Herzegovina
Qualifications
PhD in International Law, University of Sussex (September 2015 - December 2019)
LLM in International Law, University of Nottingham Law School (67%)
BA in Political Science, Istanbul University (upper second-class honours 2:1)
Activities
BLOG POSTS
BOOK REVIEWS
CONFERENCE PRESENTATIONS
CERTIFICATED PROGRAMMES