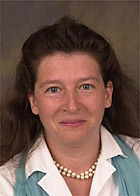 Dr
Charlotte Skeet
Biography
Biography-
Dr Charlotte Skeet is a Lecturer-in-Law and Co-Director of the Sussex Centre for Human Rights Research at the School of Law, Politics and Sociology in the University of Sussex. She teaches a Women and Human Rights module on the LLM and MA programmes in International Human Rights, and Feminism Law and Society on the Gender MA at the University of Sussex. At undergraduate level she runs options in Law and Development and Canadian Constitutional Law. Her research interests focus on gender and constitutionalism, postcolonial feminist legal theory and intersectionality theory. She is currently writing a monograph on Gender and Constitutional Activism.
Background - She completed her first degree at the University of Sussex as a 'mature student' in the 1980s - Politics in the School of African and Asian Studies. After working for the Citizens' Advice Bureau, she took a Law Conversion course (CPE) and took her Law Society Finals (practice exams) at the College of Law. She returned to Sussex to work as an Associate Tutor in the School of Law and also taught Human Rights across the University. During this period, she was appointed as an ad hoc Research Assistant at the Cunliffe Centre for the Study of Constitutions, University of Sussex, working on projects involving constitutions and gender 1995-1997 and she Co-edited and wrote for Education Law Monitor (1995 -2000) specialising in education cases involving equality issues and those that reached the Local Government Commissioners (Ombudsman). She studied for her PhD part-time and was awarded a doctorate Constitutionalism and Difference: Women and the 1997 Constitutional Reform Programme in the UK in 2005. The interest in postcolonialism and in the politics of feminism, and legal and political change generated by her first degree has remained with her and informs her current research.
Outside Affiliations and membership: Rights of Women (ROW); Human Rights Lawyers Association (HRLA), British Association of Canadian Studies (BACS), Socio-Legal Studies Association (SLSA), Society of Legal Scholars (SLS), Feminism and Institutionalism International Network (http://www.femfiin.com/).
Role
Lecturer in Law, Co-Director Sussex Centre for Human Rights Research http://www.sussex.ac.uk/schrr/ , Convenor Graduate Entry LLB, Member of Senate and the University of Sussex Panel for Criminal Convictions, UCU Equality Representative. Phd Supervisor.
Community and Business
UCU Equality Officer 2017 -
Charity Trustee and Company Director - Baxter's Field Company 2014- 2018
Charity Trustee Mutanabi Project 2005-2007