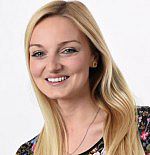 Ms
Anna Watson
Role
ESRC funded PhD Research Student at SPRU, in affiliation with the UK Energy Research Centre.
Supervisors:
Professor Jim Watson, Director, UK Energy Research Centre
Dr Florian Kern, Senior Lecturer, Science Policy Research Unit (SPRU); Director, Sussex Energy Group
Qualifications
Sept 2013- Jul 2014
Distinction MA: Environment, Development and Policy, University of Sussex
Modules studied: Theories of Development and Underdevelopment | Political Economy of the Environment | Climate Change and Policy | Fair Trade, Ethical Business and the New Moral Economy | Research Methods and Professional Skills
Dissertation: To what extent has Green Deal policy facilitated energy efficiency supply chain development: A case study of Birmingham. Policy brief available here
Sept 2006 -Jul 2009
2:1 BSc: Environmental Geography and International Development, University of East Anglia
Modules studied: Fossil Fuels | Low Carbon Technology Development | Energy Policy and Management | Natural Resources for Development | Environmental Biodiversity and Human Society | Sub- Saharan African Development
Activities
I have over five years commercial conference production experience and continue to produce events on a freelance basis. I most recently worked with UN Environment (UNEP) and the World Bank to organise their innovation focused events, prior to this producing international renewable energy events.
This experience has granted me insight into the role of policy makers and private sector innovation in creating viable markets for low carbon technologies. I am interested the interplay that occurs between vast networks of actors in creating successful partnerhsips for the development of low carbon solutions.
I also work as a social media strategist for the School of Global Studies at the University of Sussex, and am especially interested in the use of social media in making academic research accessible.
Please do add me on LinkedIn and follow me on Twitter