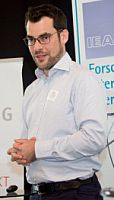 Dr
Florian Kern
Post:
Associate Faculty (School of Business, Management and Economics)
Other posts:
Co-Director (The Sussex Energy Group)
Location:
JUBILEE BUILDING JUB-381
Email:
F.Kern@sussex.ac.uk

Telephone numbers
Internal:
2831
UK:
01273 872831
International:
+44 1273 872831

Research expertise:
download vCarddownload vCard to your mobile
Biography
Florian Kern has more than eleven years of experience in research, consulting and teaching in the area of energy, climate and innovation policy as well as socio-technical transitions. He holds a DPhil in Science and Technology Policy Studies from SPRU (2010). Prior to coming to SPRU, Florian obtained a Master of Science in Socio-Economic and Technological Planning from Roskilde University (Denmark, 2005). Florian studied political science at the Free University of Berlin focusing on international relations, energy policy and environmental policy and management (2000-2003).
Role
Dr Florian Kern is Co-Director of the Sussex Energy Group and Senior Lecturer at SPRU-Science Policy Research Unit. He is an Associate Editor of Research Policy.
He is a member of the British Institute of Energy Economics (BIEE) and the American Political Science Association (APSA; section Science, Technology & Environmental Politic) and sits on the steering group of the Sustainability Transitions Research Network (STRN). He is also a member of the advisory board for the book series Routledge Studies in Energy Transitions.
Florian is an active peer reviewer for a range of journals incl. Research Policy, Technological Forecasting & Social Change, Energy Policy, Environmental Innovation and Societal Transitions, Journal of Environmental Policy and Planning, Policy Sciences, Regulation and Governance, Technology Analysis & Strategic Management, Foresight, Science and Public Policy and Sustainability. He also frequently reviews book proposals for publishers and research funding applications for a range of national and international funders.