University news
University of Sussex's Professor Anil Seth awarded Royal Society Michael Faraday Prize and Lecture Award
By: Lauren Ellis
Last updated: Friday, 1 September 2023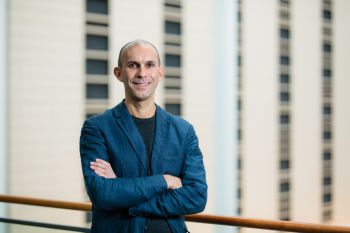 University of Sussex's Professor Anil Seth, has been awarded this year's Royal Society Michael Faraday Prize and Lecture for his ability to inspire and communicate concepts and advances in cognitive neuroscience and consciousness to the public.
The Royal Society Michael Faraday Prize and Lecture is awarded annually to the scientist or engineer whose expertise in communicating scientific ideas in lay terms is exemplary. In previous years this has been awarded to Sir David Attenborough (2003) and Brian Cox (2012).
Anil Seth is a Professor of Cognitive and Computational Neuroscience and director of the Sussex Centre for Conscious Science, one of the University's 12 new Centres of Excellence. During his time at Sussex, Anil has pioneered research into consciousness and the way in which individuals think and feel for over 30 years.
Anil's internationally leading research is recognised for how it ranges across many different disciplines, from philosophy to neuroscience to physics.
Along with his research, Anil has always prioritised public engagement and outreach. A former Wellcome Trust Engagement Fellow, he has driven many innovative public engagement projects including a Rap Guide to Consciousness, an award-winning radio play, museum installations, and most recently the ground-breaking Dreamachine project, which enabled many thousands of people to experience first-hand the power of their minds and brains.
His research and outreach have been featured in both UK and international media outlets such as The Guardian, The New Statesman, The Wall Street Journal and Bloomberg, and he regularly appears in a variety of TV, film, radio, and podcast media, including BBC Radio 4's The Infinite Monkey Cage, The Adam Buxton Podcast and Under the Skin with Russell Brand. His recent book Being You – A New Science of Consciousness was a Sunday Times Top 10 Bestseller and a Book of the Year for many listings, and his two TED talks have collectively racked up over 16 million views.
On winning the Royal Society Michael Faraday Prize and Lecture, Anil says:
"I'm delighted and honoured to receive this award. It's humbling to be recognised for science communication and engagement as these are critical to helping science flourish within society
"It is wonderful that the Royal Society recognises excellence in public engagement alongside its other accolades, and I very much hope that my award this year will encourage other researchers – especially those in the mind and brain sciences – to get involved, and to find ways to combine science and outreach. I'm also very grateful to the work of my students and colleagues, without whom I'd have nothing to talk about!"
Anil is among 25 Royal Society Medal and Awards winners this year, a programme that recognises and celebrates outstanding contributions to science from individuals and teams.
Renowned astrophysicist, cosmologist and former Professor at the University of Sussex (1972-1973), Martin Rees (Lord Rees of Ludlow, OM Kt HonFREng FRS), has also been named this year's recipient of the world's oldest and most prestigious scientific award. The Royal Society's Copley Medal, awarded for sustained, outstanding achievements in any field of science, was first awarded in 1731. Previous recipients have included Louis Pasteur, Dorothy Hodgkin, Albert Einstein and Charles Darwin.
Sir Adrian Smith, President of the Royal Society said:
"On behalf of the Royal Society, I offer my congratulations to all the 2023 recipients of Medals and Awards. The breadth and scope of scientific knowledge and experience reflected in this year's nominations in nothing short of phenomenal. I am very proud to celebrate such outstanding scientific contributions from so many different specialisms around the world."