Research news
University awarded funding to help improve treatment for aggressive childhood leukaemia
Posted on behalf of: Lauren Ellis
Last updated: Monday, 2 October 2023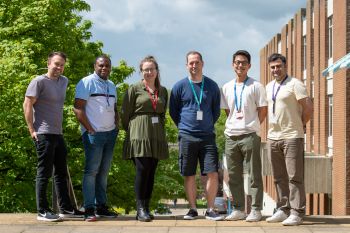 The University of Sussex has announced that it has been awarded funding to pursue research into childhood acute myeloid leukaemia (AML).
The three years' worth of funding has been awarded for the first time to Sussex by The Little Princess Trust, one of the largest charity funders of childhood cancer research in the UK, in partnership with the Children's Cancer and Leukaemia Group (CCLG). The funding will help to improve research to understand how the cancer-promoting protein, beta-catenin, can be targeted to improve treatment for childhood leukaemia. AML is an aggressive blood cancer affecting both children and young adults. According to Children's Cancer and Leukaemia Group (CCLG), it makes up just under a fifth of all childhood leukaemia cases.
All cancers arise from genetic mutations and the most frequent genetic abnormality seen in childhood AML are those affecting the Mixed Lineage Leukaemia (MLL) gene. Children who carry this MLL mutation have low survival rates and urgently require new, less toxic treatments to fully eradicate the disease.
In many MLL-AML cases there is an overactivity of the cancer-promoting molecule called beta-catenin. Abnormal beta-catenin activity has been observed in human cancer for over 25 years, but the development of targeted drugs in leukaemia has been hindered by a poor understanding of its biological interactions inside blood cells.
The project's lead researcher and Senior Lecturer in Biomedical Science at the University of Sussex, Dr Rhys Morgan, sadly lost his younger brother, David, to blood cancer in 2009, which remains a huge inspiration behind his work.
Dr Rhys Morgan says:
"We are incredibly grateful to The Little Princess Trust for supporting this project, which will allow us to pursue promising leads for targeting this problematic molecule (beta-catenin) in human leukaemia. This funding will help us to better understand how beta-catenin promotes leukaemia progression and unlock new strategies for developing more effective and less toxic therapies for treating childhood AML.
"Given the high degree of abnormal beta-catenin observed across human malignancies, the outcome of this research will impact many other types of leukaemia and human cancers.
"David was strong and healthy during our childhood, but watching him struggle with some very toxic drugs during his blood cancer treatment is an abiding memory I'd like to extinguish, and ultimately, they didn't work for him. Hundreds of families endure this scenario for their younger loved ones annually and we're hoping our research can contribute to the design of kinder, more targeted therapies, that induce more promising clinical outcomes."
The research team at the University of Sussex has discovered that beta-catenin frequently binds to RNA (a close relative of DNA) and a family of proteins known as RNA binding proteins (RBP) in leukaemia cells, which cooperate to influence gene expression. Abnormal gene expression contributes to the most important properties of leukaemia cells including growth, survival and drug resistance.
The research team will use the funding to build on this knowledge and determine whether disrupting interactions between RNA/RBPs and beta-catenin slows leukaemia progression. The ultimate goal will be to develop new drugs, which specifically target this network, providing a less toxic treatment option than chemotherapy.
Phil Brace, Chief Executive of The Little Princess Trust says:
"Funding opportunities like this have been made possible thanks to the dedication and amazing support from the Little Princess Trust community and supporters. We can see that this research has huge potential to support those with childhood leukaemia, in particular in developing kinder and more effective treatments. We look forward to hearing updates on how this work progresses."