People news
University of Sussex Quantum Technologies Professor to give annual 'Queen's Lecture' in Berlin
By: Alice Ingall
Last updated: Wednesday, 8 November 2023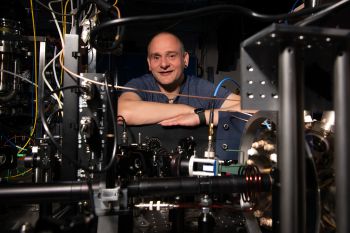 The Director of the University of Sussex Centre for Quantum Technologies, Professor Winfried Hensinger, will be giving the annual 'Queen's Lecture' in Berlin this evening (Wednesday 8 November 2023). The lecture, titled 'Constructing the world's most incredible machines: Quantum Computers', was 'gifted' to Germany by the late Queen Elizabeth II.
The Queen's Lectures were founded by Queen Elizabeth II as a gift to the City of Berlin on the occasion of her state visit in 1965. Since 1997, the Queen's Lecture has taken place at the Technical University, Berlin. Each year a renowned British scientist delivers a lecture on her or his area of expertise, with previous lectures given by Sir Richard Rogers, Dame Wendy Hall, Neil MacGregor and Professor Sarah Sharples.
Director of the Centre for Quantum Technologies at the University of Sussex, Professor Hensinger, says: "I feel very honoured to have been selected to give the annual Queen's Speech in Berlin, a gift from the late Queen Elizabeth II to Germany. I look forward to explaining how the powerful ideas we developed in our research at the University of Sussex are being used to construct practical quantum computers that will help solve some of our most pressing global issues.
"I will also share insights into how we make use of the fascinating and 'spooky' world of quantum physics in developing quantum computers and how this technology may give rise to a whole new industry sector."
You can find out more about the Queen's Lecture series and watch the livestream of Professor Hensinger's lecture here from 5pm CET (4pm GMT), Wednesday 8 November 2023.
The Centre for Quantum Technologies is a Centre of Excellence at the University of Sussex; a classification reserved for world-leading research that will drive progress and make an important contribution to the planet and its people.
A key aim of the Centre is to train the next generation of quantum physicists and engineers and, last week, the Centre announced a first-of-its-kind quantum technology degree, which offers undergraduate students the opportunity to contribute to world-leading quantum technology research from day one of their course.