People news
First Tickets Released For Dreamachine As Spectacular Venues Announced Across the UK
By: Neil Vowles
Last updated: Wednesday, 30 March 2022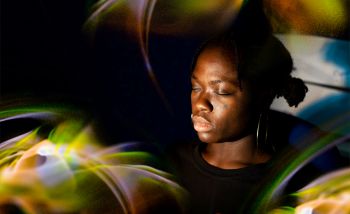 Free tickets have been released for a unique immersive experience which may also help reveal new insights into how we perceive the world created by University of Sussex consciousness experts working with award-winning artists and musicians.

Sussex neuroscientists Professor Anil Seth, Dr David Schwartzman, Dr Reny Baykova, and Trevor Hewitt have helped create Dreamachine, a powerful new collective experience exploring the limitless potential of the human mind, which will also form part of the world's largest-ever citizen science research study into perceptual diversity.

The powerful new kind of immersive experience exploring the limitless potential of the human mind will debut at four unique venues across the UK, launching at London's Woolwich Public Market (10 May - 24 July 2022) before being presented at Temple of Peace, Cardiff (12 May - 18 June 2022), Carlisle Memorial Church, Belfast (25 July – 4 September 2022) and Murrayfield Ice Rink, Edinburgh (13 August - 25 September 2022).

Free tickets for London and Cardiff have been released this week, with tickets for other venues available in June (www.dreamachine.world).

Created by Collective Act, bringing together Turner Prize-winning artists Assemble, Grammy and Mercury nominated composer Jon Hopkins, and a team of leading technologists, scientists and philosophers, Dreamachine is commissioned and presented as part of UNBOXED: Creativity in the UK.

Dreamachine will provide audiences and communities with an entirely new way of reconnecting with themselves and each other. The four venues have each been selected for their historical and architectural interest, as well as the central role they have played in their community throughout their history. Dreamachine will see these spaces reimagined as a new kind of public amenity, providing audiences with a unique opportunity for shared experiences, dialogue and connection.

Premiering in London, Dreamachine will transform the Grade II listed Woolwich Public Market. Located on a busy high street, the Market was built in 1931 and is the earliest known example of a Lamella roof to survive in England. It has been dormant since 2018, so the presentation of Dreamachine will reawaken the space and provide the public with an opportunity to reconnect with this historic building in the heart of the town centre, ahead of the future regeneration of the area.

In Belfast, participants can experience Dreamachine at the deconsecrated Carlisle Memorial Church, one of the city's most striking buildings, which has served as a gateway to North Belfast since 1875. After ceasing to be a place of worship in the 1980s, the church fell into disrepair before a major campaign in 2008 to secure its regeneration. This summer, Dreamachine will revitalise the venue and contribute to the return of the building as a vibrant and shared community space.

In Cardiff, Dreamachine will travel to the Temple of Peace, a building designed to 'change the world'. A fitting space for current times, it was built in the wake of the First World War, designed to be a place of inspiration, actively furthering the causes of international peace. The experience will live within this magnificent Art Deco civic temple, providing audiences with a unique and poignant setting for internal reflection.
The final presentation will see Dreamachine reimagine Murrayfield Ice Rink in Edinburgh, transforming the Art Deco space after it was recently forced to close its doors due to Covid-19. Built in 1938, it has been home to one of the world's most popular ice rinks, providing a central hub of entertainment and events for generations of locals.
Dreamachine is inspired by an extraordinary but little-known 1959 invention by artist–inventor Brion Gysin. His experimental homemade device used flickering light to create vivid illusions, kaleidoscopic patterns and explosions of colour in the mind of the viewer.
Anil Seth, Professor of Cognitive & Computational Neuroscience at the University of Sussex, said: "Dreamachine is completely unique that each participant generates their own perceptual world - their own individual inner universe. People will experience, for themselves, the power and potential of their own minds and brain, and we researchers have an unprecedented opportunity to learn about people perceive the world differently, both through the Dreamachine itself and with the other elements of the project – a large scale citizen science experiment into perceptual diversity, and an exciting schools programme in which we will kindle the curiosity of new generations."