People news
Brighton and Hove youngsters given chance to pick their environmental objects that matter in new exhibition
By: Neil Vowles
Last updated: Wednesday, 3 November 2021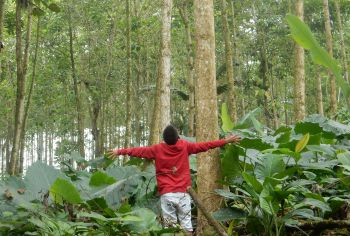 Children and young people are being encouraged to explore their concerns around sustainability and climate change and how they compare with peers around the world at a free exhibition opening this week.
Objects that matter opens at the Jubilee Library in Brighton this Friday (5 November) and runs until Tuesday 9 November.
The exhibition, organised by University of Sussex education researchers, includes objects chosen and exchanged by children and young people in Brighton & Hove as well as in the West Bengal region in India and the lowland Chocó region in Ecuador reflecting what they value in their local environments.
The event also includes a screening of a short film featuring children and young people explaining how their chosen objects say something to them about their environment.
This event is part of the annual ESRC Festival of Social Science which this year has the environment as a key theme to reflect the COP26 UN climate change conference which is taking place at the same time in Glasgow.
The Festival of Social Science, organised by the Economic and Social Research Council, has been running since 2002 and this year has more than 400 events delivered by 34 universities across the UK.
The University of Sussex is running 12 online and in-person events for the month-long festival including workshops on The carbon footprint of what you eat and Creating a generation of environmental activists.
Dr Rebecca Webb, Objects that matter co-organiser and Lecturer in Early Years and Primary Education at the University of Sussex, said: "An important educational challenge is how to engage with the uncertainty of climate change, without them being put-off by complexity, anxiety or futility.
"Our research suggests that creative and inquiry-based activities can support students to explore issues in depth. This includes engaging with multiple perspectives, feelings and sources of knowledge, and the tensions between these."
On the second day of the exhibition on Saturday 6 November, organisers will host two workshops for young people at 11am-12noon.
The first drop-in workshop will give children aged up to 12 and their families an opportunity to create and discuss the objects that matter to them.
A second bookable workshop for young people aged between 12 and 21 years-old who will get the chance to explore what the objects might reveal about global connections and the need to act.
The workshops and exhibition are organised by researchers in the School of Education and Social Work at the University of Sussex working with children, families, teachers and educators to engage students head-on with the uncertainties associated with climate change and biodiversity loss.
Their research involves creative and deliberative activities to explore different sources of knowledge, diverse perspectives and a complexity of feelings, to think through what children and young people might do in response to the sustainability crisis.
The researchers hope to support young people to experience hope and to live and thrive in the world despite the heavy weight of facts on climate change and biodiversity loss.
Dr Perpetua Kirby, Objects that Matter co-organiser and Research Fellow in the School of Education and Social Work, said: "Opportunities to explore difficult issues creatively, with the support of an adult, enables students to identify what they love and want to preserve, as much as what must change about the world. This is inherently hopeful."