People news
Professor awarded OBE for services to tackling neglected tropical diseases
By: Stephanie Allen
Last updated: Friday, 9 October 2020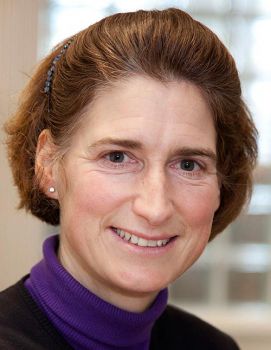 Gail Davey, Professor of Epidemiology at Brighton and Sussex Medical School (BSMS), has been awarded an Officer of the Order of the British Empire award in the 2020 Queen's Birthday Honours, announced today.
For over 17 years, Professor Davey has dedicated herself to leading public health research that has transformed care for some of the world's most vulnerable communities. Her work has focused on Neglected Tropical Diseases and in particular podoconiosis (podo), an endemic non-filarial lymphoedema (leg swelling), sometimes known as podo or mossy foot, that affects 4 million of the poorest people in Africa, Asia and South America.
Professor Davey's vital and dedicated leadership has transformed the global approach to treatment, working with partners around the world on the ambitious but achievable goal of a world free from podo in our lifetime. Her work has transformed societies' understanding about the cause of the disease, and provided the critical evidence for a simple, affordable treatment package that has inspired governments and funders to finally take notice of podo. A recent BIG Lottery funded project led by her enabled over 68,000 patients to receive life-changing treatment and care for the very first time. Alongside other projects, that total has now risen to over 100,000.
Prof Davey said: "I'm humbled by this award, which reflects the dedication of a huge number of people rather than any individual endeavour. My hope is that the recognition afforded by the OBE focuses attention on podo, on the structural problems that mean it exists at all, on efforts to make care accessible to all patients, and on protecting the next generation from this entirely avoidable condition."
The disease had been widely ignored and unknown for decades, although it has a devastating impact on those it affects, mainly subsistence farmers in low- and middle-income countries who already exist below the poverty line. It affects men, women and children, and results in debilitating and painful leg swelling that leads to chronic disability and terrible stigma.
Prof Malcolm Reed, Dean of BSMS, said: "Professor Davey has made a huge difference to individuals, families and communities through her outstanding and dedicated work in podoconiosis. People who have benefited from her work include not just those affected by the disease, but also researchers that she has trained and the University environments to which this contributes, both in the UK and abroad. Her modesty, passion, expertise and ability to build relationships with a range of people, from local communities to government officials, have enabled her to improve the lives of millions of people around the world."   
Professor Davey is also Co-Director of the Brighton and Sussex Centre for Global Health Research at BSMS and President of the Royal Society of Tropical Medicine and Hygiene. In 2015, her research into podo was selected as one of the top 20 examples of UK research contributing to international development by the UK Collaborative on Development Research. To date, over 80 research articles have arisen from her work on podo and in 2018, she led the organisation of the first ever international podo conference, held in Addis Ababa and attended by 130 people from 10 different countries.
Alongside her research, she has worked tirelessly to raise the local and international profile of podoconiosis, successfully advocating for its inclusion in the WHO list of Neglected Tropical Diseases. She founded the non-government organisation Footwork to coordinate international efforts and advocacy on podoconiosis, and in 2011 she also helped establish the National Podoconiosis Action Network (NaPAN) in Ethiopia, to build capacity in local implementing partner organisations.