People news
University of Sussex engineers create face shields for NHS
By: James Hakner
Last updated: Friday, 24 April 2020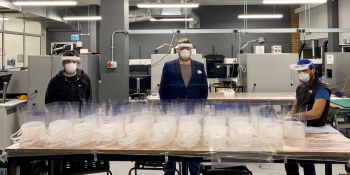 At 3.39am this morning, engineers at the University of Sussex completed their first 100 face shields, ready for testing within the NHS.
The shields have been cleaned and will now be distributed rapidly to local hospitals, GP surgeries and care homes for their feedback on usability.
Once the design is approved – hopefully next week - the team of University volunteers will launch a full-scale production operation, which they believe will be able to produce 1000 face shields a day by early May.
The University has acted quickly to respond to the shortage of Personal Protective Equipment (PPE) in the region and nationally.
Having explored using the University's 3D printers, the team soon realised they could massively speed up production by using laser cutters.
Through trial and error, the team have got production time down to one-and-a-half minutes per shield.
The team of volunteers is led by Harri Koivisto, Teaching Fellow in Mechanical Engineering in the University's School of Engineering and Informatics. He, Daniel Payne, a PhD student in Engineering, and Dr Tan Sharma, in the University's IT Services team, worked through the night to complete the prototype shields.
Professor Adam Tickell, the University's Vice-Chancellor, said: "We are all incredibly proud of what Harri and his team have been able to achieve in such a short space of time.
"We are committed to doing everything we can to help those on the frontline of battling coronavirus and we know this is going to make a significant difference in our region.
"Thank you to everybody involved."
Professor Jonathan Bacon, Head of the School of Engineering and Informatics, said: "This has been a tremendous School effort to contribute to the battle against Covid-19. We have Harri's leadership and expertise, the right equipment and an enthusiastic team of at least 10 volunteers, notably Dr Mark Puttock-Brown and Kevin Brady, to produce significant numbers of face shields. The limiting factor right now is the availability of raw materials – PVC and polypropylene sheets. But we are working on it."
Distribution and testing is being co-ordinated by Dr Chi Eziefula, Senior Lecturer in Infection at the Brighton and Sussex Medical School (BSMS). Alongside her role in BSMS, Dr Eziefula is an infectious diseases consultant at Brighton and Sussex University Hospitals.
The University is providing as much help as possible to the national effort. We have set up a task force to strategically co-ordinate our activities in the most efficient way possible and, in early April, established three working groups to begin:
Manufacturing personal protective equipment for NHS staff and other key workers;
Helping with national efforts to test for COVID 19; and
Coordinating coronavirus related research.