People news
Championing open access with online digital history journal
By: Stephanie Allen
Last updated: Tuesday, 9 October 2018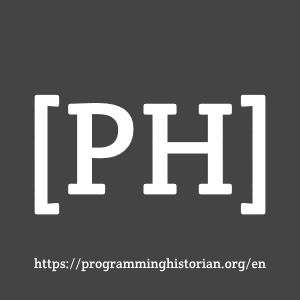 Two historians are celebrating after an open-access journal, for which they sit on the editorial board, reached a million annual page visits.
Dr James Baker, Senior Lecturer in Digital History and Archives from the School of History, Art History and Philsophy, and Dr Anna-Maria Sichani, Research Fellow in the School of Media, Film and Music, are part of the 14-strong editorial board behind The Programming Historian, an open-access, multi-lingual journal that publishes peer-reviewed tutorials written by historians for historians.
The site offers tutorials on a wide-range of digital tools and techniques, aiming to enable the sharing of knowledge to facilitate research and teaching.
Launched in 2007, the website began life as a toolkit to show how code can be used for historical work. Since then, it's evolved to become a fully fledged journal, widely respected within the digital history and digital humanities communities and recognised by the Digital Humanities Awards, a community voted prize.
Dr Baker said: "I've only been a member of the editorial board for a year but, having been involved as a writer for around five years, it's incredible to see how much the project has grown.
"I'm so proud to be part of this project – open access is incredibly important and we need to continue opening up our scholarly communications so others can benefit."
Dr Sichani, Research Fellow in Media and Film at the Sussex Humanities Lab, said: "I am excited and proud to be part of such a project: I have been following the development of The Programming Historian through the years, first as a user and now as member of the editorial board.
"For The Programming Historian, open access is not only about offering freely accessible lessons on digital methods and tools to a truly international and wide audience, but also about developing an overall workflow as well as a set of editorial and author guidelines that embrace the values of transparency, collaboration, mutual respect and open peer-review in scholarly communication.
"We aim to contribute to a community that shares the same passion and values towards accessible, fair and inclusive digital scholarship."
The Programming Historian has a global audience, with users in South America and parts of Asia as well as across Europe. Interestingly, the journal also has a large number of readers from India, specifically within the 'tech cities', and counted more visits last year from Bangalore than from London.
Dr Baker commented: "Through analytics, we've shown that users from India are mainly accessing Python tutorials, which suggests that they're using the site to fill a basic gap in lessons. It also suggests that we're not just reaching historians anymore. This proves why open access and the sharing of knowledge is so important on a global scale."
With the team having published Spanish translations of over half its 74 tutorials, the editorial board are now working to launch a French language version of the site, with a view to making The Programming Historian truly international.

To find out more, visit https://programminghistorian.org/