University features
Masters student wins scholarship through Santander's Black Inclusion Programme
Posted on behalf of: University of Sussex
Last updated: Thursday, 3 June 2021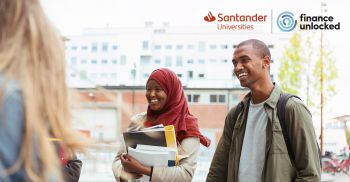 An International Marketing Masters student in the University of Sussex Business School has won a £1,500 scholarship as part of Santander's Black Inclusion Programme.
Having scored an average of over 80% across quizzes taken as part of an online programme run by Santander, in partnership with leading finance industry specialists Finance Unlocked, the Sussex recipient was selected as one of 30 scholarship winners.
The Santander Universities programme offered 3,000 Black and Black Mixed undergraduate students and recent graduates from across the UK the chance to take part in the eight-hour online course. It provided access to professional development and the opportunity for participants to expand their financial knowledge and gain employability skills.
The winning student said: "I really enjoyed the Finance Unlocked course. Having studied a couple of finance-related modules in my undergraduate degree, it was great to hear it from the perspective of those who had worked in the banking industry. There were lots of other interesting topics too, including blockchain technology.
"I would thoroughly recommend this programme to anyone and I am grateful to Santander for providing me with this opportunity. I am going to put the prize money towards a nice meal with my family to celebrate my Masters' graduation and treat myself to some new clothes for my new job!"
As well as the scholarship, the group of winners will be kept informed of future career opportunities within Santander.
Austin said: "The opportunity with Santander was extremely valuable, especially as someone who studies a science degree it was very interesting and useful to be able to broaden my knowledge in an area I don't know too much about.
"The videos were really well broken down and easy to learn from. I learnt things about finance I will never forget. Furthermore, as a business owner, it was incredible to gain an understanding of private equity and behavioural science."
Matt Hutnell, Director at Santander Universities, said: "Over the last decade Santander Universities has collaborated with its network of university partners to ensure students from diverse backgrounds are supported into university, work and self-employment. This new programme aims to provide students and recent graduates from communities under-represented in the financial services sector with further professional development as they prepare for and embark on their future careers. It's fantastic that so many students could take part and a huge congratulations to all 30 winners."