MAKING CONNECTIONS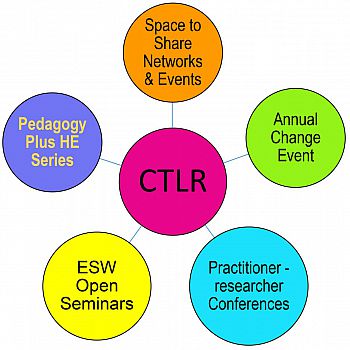 The Centre for Teaching and Learning Research (CTLR) is engaged with education in all its pedagogical and social complexity. The interests of members span local, national and international contexts and a range of formal and informal settings, running from Early Years to Higher Education and including Initial Teacher Education. Consistent with this, we aim to foster the development of more holistic, contextualised and systemic understandings of education in all its many forms.
The Centre's strapline is Making Connections, reflecting its focus on bringing research, theory, policy and practice together with a view to promoting positive change. Each year we host an Annual Change Event that brings researchers, students and stakeholders together to promote understanding of how more equitable and inclusive approaches to teaching and learning might be achieved. We are also actively engaged in the development of locally-based practitioner researchers, hosting two conferences.
Upcoming Event: CTLR/SEAP: Drug Use and Child Protection: What can/should schools do? with Dr Simon Flacks
Thurs 30 Nov, 4-5pm, via Zoom.
Dr Simon Flacks (Law, Sussex) will reflect on his research into how drug use (including alcohol) by both children and parents can trigger child protection interventions and school exclusions. He will consider the tensions between discipline/punishment and welfarist approaches to drug use, and ask how teachers and other professionals can approach the difficult task of understanding and contextualising risk within such a morally-charged area of social policy.
Please register here: https://forms.gle/Yc88BCqXMJYnDYQo9
The School Exclusions & Alternative Provision (SEAP) network:
The SEAP network aims to provide an inclusive space for researchers, practitioners and policymakers to come together to share thoughts on pressing issues and new directions with a view to improving the educational progress and life chances of some of the most disadvantaged children and young people.