Past events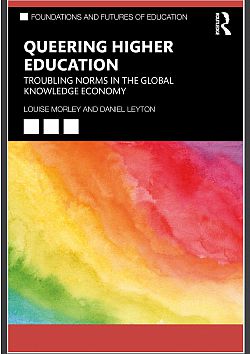 BOOK LAUNCH
Date: Monday 5 June, 2023
Time: 4-7pm
Venue: Ironworks Studios, 30 Cheapside, Brighton, BN1 4GD (+ online via Zoom)
Queering Higher Education:
Troubling norms in the global knowledge economy
CHEER hosted a book launch for Morley, L. & Leyton, D. (2023) Queering Higher Education: Troubling Norms in the Global Knowledge Economy. London: Routledge.
This book offers an urgent theoretical analysis of the global knowledge economy using queer perspectivism. The authors' explore how queer theory can provide alternative readings of contemporary pathways, pedagogical and research cultures, political economies, and policy priorities with higher education.
The book launch included a panel presentation and discussion followed by a drinks reception.
CHEER Book Launch: 5 June 2023
_____________________________________________________________________
CELEBRATING CHEER
Date: Thursday 26 May, 2022
Time: 2-5.30pm (followed by a wine reception)
Venue: Ironworks Studio in Brighton (+ online)
Disrupting Higher Education: 14 Years of CHEER
This event celebrated the contributions of Professor Louise Morley, who has led CHEER since its foundation in 2007. Under her leadership, CHEER has become nationally and internationally-esteemed with extensive links with other centres of excellence across the globe. CHEER is part of critically informed social change, bringing together new interdisciplinary understandings of the creation, exchange and transfer of knowledge, and its social justice purpose, distribution and impact on society, higher education policy, practices, and processes. This event marked the significance of CHEER's contribution to questions of equity, inclusion, and diversity in the global academy, and is committed to examining and reviewing the systems, and gives us the opportunity to thank Louise for all her work as CHEER Director as she moves on from Sussex. With a series of short talks including invited contributions from CHEER collaborators across the globe, consideration was made of the past and future areas of higher education in need of disruption.
Disrupting Higher Education: A celebration of 14 years of CHEER
_____________________________________________________________________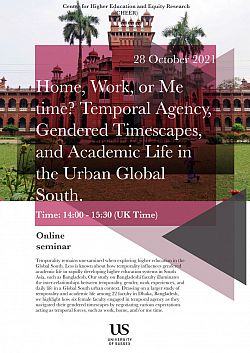 VIRTUAL EVENT
Date: Thursday 28 October 2021
Time: 2-3.30pm

Riyad A. Shahjahan, Associate Professor of Higher, Adult, and Lifelong Education (HALE), Michigan State University
Naseeb K. Bhangal, Doctoral Student, Higher, Adult, and Lifelong Education (HALE), Michigan State University
Tasnim A. Ema, Undergraduate Student, Department of Anthropology, University of Dhaka, Bangladesh
Home, Work, or Me Time? Temporal Agency, Gendered Timescapes and Aademic Life in the Urban Global South
Temporality remains unexamined when exploring higher education in the Global South. Less is known about how temporality influences gendered academic life in rapidly developing higher education systems in South Asia - such as Bangladesh.
Our study on Bangladeshi faculty illuminates the inter-relationships between temporality, gender, work experiences, and daily life in a Global South urban context. Drawing on a larger study of temporality and academic life among 22 academics in Dhaka, Bangladesh, we highlight how six female faculty engaged in temporal agency as they navigated their gendered timescapes by negotiating various expectations acting as temporal forces, such as work, home, and/or 'me time'.