Learn more about our Leverhulme Scholars and their research projects.
Cohort 1
Ben Evans (School of Media, Arts, and Humanities)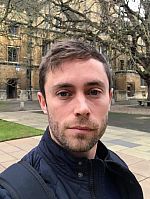 Project title: Predictive theories of mind and human-technology interaction
Supervisors: Prof Andy Clark, Dr Beatrice Fazi
Project description: I use new theories of cognition and brain function like Active Inference, along with other frameworks from philosophy of cognitive science, to try and better understand how human agents interact with, and are impacted by, technology and their material environments. The project is concerned with questions about mental health and wellbeing, the ethics of design and implementation, and with how best to conceptualize new developments in how technology is used, such as in the case of ambient smart environments or virtual reality. Overall, the aim of the project is to show how approaches utilizing new theoretical frameworks can provide new and useful answers to pressing questions about human-technology interaction.