CRIBS approach provides a push for international climate goals
A new policy approach designed by Sussex researchers has been adopted by the United Nations and World Bank to help developing countries respond to the climate emergency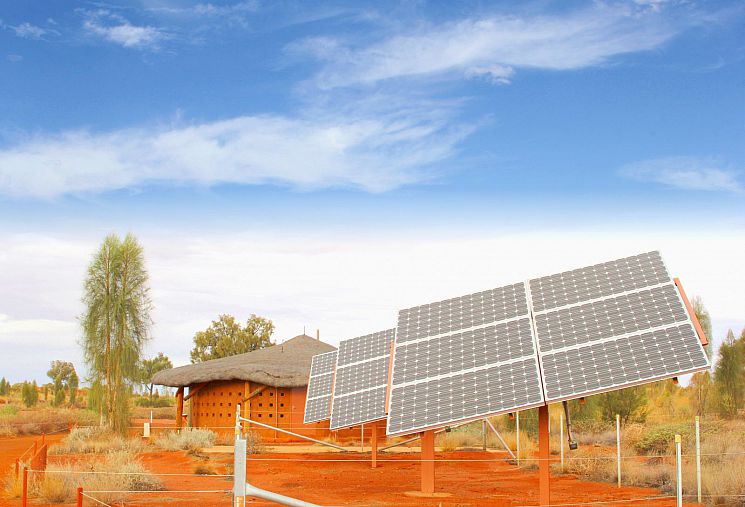 Climate technologies – for example, drought-resistant farming technology, wind farms or solar PV – can help countries adapt to or mitigate the adverse effects of climate change. But putting these methods into place in developing countries, where they are needed most, isn't always easy.
"One of the key challenges is the lack of skills and knowledge to use, operate and work with the technologies," explains Dr Rob Byrne (Senior Lecturer, SPRU). "Also, policymakers often view sustainable technologies as inferior. This attitude can be reinforced by fossil fuel industries, making it difficult to overcome."
Dr Byrne, together with Professor David Ockwell (Head of department, Geography), has developed a new policy approach designed to overcome these barriers and support the successful adoption of climate technologies in developing countries.
Global policy failures
Research by Byrne and Ockwell highlighted that, despite its aims, global climate policies over the last three decades have largely failed to promote climate technologies in poorer nations. Instead, many of these policies have benefited only the richer developing countries and the international companies who supply the technologies.
For example, African countries received just 3% of the total investment under the United Nations' Clean Development Mechanism (CDM) – which allows industrialised nations to offset their own emissions by funding sustainable projects in developing countries. In contrast, China received around 60% of the funding and India around 11%.
Byrne explains the roots of the problem: "The current policy framing sees the challenge only in terms of financing the technology, and puts nothing in place to support skills and knowledge. So, investing in a wind farm in China, which has a relatively developed infrastructure, is seen as much less risky than investing in the same technology in Malawi, where there might be nobody with the skills or knowledge to install it, to make parts, or maintain it."
The birth of CRIBs
So how can developing countries attract investment and ensure successful adoption of new technologies? Drawing on their analysis of the failings of the CDM, together with transitions theory and their own research in Africa, Byrne and Ockwell formulated a new policy approach – known as Climate Relevant Innovation-system Builders (CRIBS) – designed to address the issues that hardware financing alone can't fix.
CRIBS is based on the understanding that, in order for climate technology to be successfully adopted, it's necessary to first strengthen national systems of innovation (NSIs) – that is, the network of institutions where innovation occurs – from businesses and NGOs to government departments and universities. "In developing countries, particularly in relation to newer climate technologies, NSIs are often either weak or non-existent," says Byrne.
It's also important to look beyond the technology, Byrne explains. "We have to consider social contexts and the political and economic impediments to new technology uptake. Successful climate technology transfer requires the development of socio-technical innovation systems."
The CRIBS model involves dedicated institutions, based in developing countries, focusing explicitly on NSI building, understanding local capacities, and identifying opportunities to connect actors across projects, programmes and sectors.
By nurturing innovation systems in this way, the approach can help developing countries become sufficiently robust to meet ambitious sustainability goals.
International impact
With its aim of supporting the sustained and widespread development of climate technologies, CRIBS provides a powerful new focus for international policy.
The CRIBS approach now forms part of the funding mechanism for the United Nations US$10.3 billion Green Climate Fund (GCF), and has fed into the World Bank's review of its climate technology approach in developing countries.
CRIBS has had a major impact in Africa, with the African Union applying the approach in its training for climate policymakers. In addition, organisations from nine African countries used CRIBS to underpin their GCF proposals, securing almost US$10 million to help meet international climate goals.
Another patron of the CRIBs approach is the World Bank, which is using the approach in a project to promote clean electric cooking solutions.
The power of relationships
Asked how the project has achieved such remarkable impact, Byrne emphasises the importance of the relationships forged with stakeholders. "With an academic paper, you're limited in what you can say or recommend. But by building connections with policymakers, for example, you can go much deeper – not simply making recommendations but also learning about what's needed and refining insights in response."
"Without these relationships, it would have been difficult for our research to have any impact at all. They aren't always easy to instigate, and they can take some time to build, but relationships with key stakeholders are a fundamental part of achieving real-world impact."
Find out more about CRIBS here:
Ockwell, David and Byrne, Rob (2015) Improving technology transfer through national systems of innovation: climate relevant innovation-system builders (CRIBs). Climate Policy, 16 (7): pp. 836-854
Policy Briefing: CRIBs (Climate Relevant Innovation-system Builders) A powerful new focus for international climate technology policy