Business School news
Read news relating to the University of Sussex Business School.
---
Business School students gain real-world experience at TIMEdotCom internship in Malaysia
By: Abayomi Olusunle
Last updated: Wednesday, 27 July 2022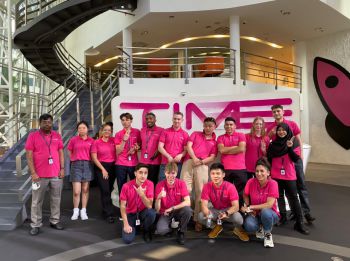 In collaboration with the University of Sussex Business School, telecommunications provider, TIME dotCom (TIME) offered students a one-month team-based internship in Malaysia.
The aim of the TIME internship is to introduce students to the Asia Pacific region, its economy and society, as well as provide them with transferable skills that will enhance their employability. Accompanied by Business School lecturers Dr Mona Rashidirad and Professor Nachiappan Subramanian, students visited the capital city, Kuala Lumpur and Penang as part of their training.
This involved a consultancy programme where students worked on real-life business problems. The internship provided students with the opportunity to learn in a global and diverse environment and collaborate on projects including fibre network planning, marketing, broadband coverage, retail and consumer sales, telemarketing, and product development.
Nicholas Webb, BSc Business and Finance said: "From this internship I have developed a wide range of new skills and built confidence in areas I was previously weak in. One of the key areas where I have particularly improved is presenting. Through the experience of presenting to the senior marketing and retail teams I have built my confidence, practiced new techniques, received valuable feedback, and improved my public speaking."
According to Mona Rashidirad, Programme Lead and Lecturer in Strategy and Marketing: "The trip was very successful and we have received positive feedback from the students. This emphasises why international learning programs are important as a tool for building real-world experience and intercultural skills. It also proves how highly qualified and global our Business School students are."
Fran Moore, BSc Business and Finance added: "The Business School has done more than enough to prepare its students for an intercultural working environment. One way they continue to do this is by providing opportunities that allow its students to see and have hands-on experience in an actual working environment through placements and internships. The Business School also has students from different departments on this specific internship, from economics to business management, because it allows us to network and learn a lot about each other's courses."
Nachiappan Subramanian, Programme Convenor for the Global Supply Chain Management MSc course concluded: "The TIME programme has proven that going back to normal gives you the opportunity to bounce back better. Thanks to TIME and the Business School's Senior Management Team for sustaining the programme for the past three years and exposing future leaders to comprehensive and end-to-end business challenges."
The University of Sussex Business School is dedicated to developing current and aspiring leaders who will champion critical and original thinking and work with global businesses.
The TIME internship took place from 11 June to 9 July 2022.
---
You might also be interested in: