Joint Strategic Seed Fund established between Sussex and Renmin University of China
Posted on behalf of: International Partnerships Office
Last updated: Tuesday, 8 August 2017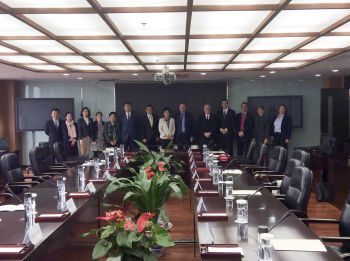 The University of Sussex and Renmin University of China have announced a new Joint Strategic Seed Fund, with the aim of pooling resources to develop joint research with global impact and the development of new interdisciplinary research programmes.
The Fund is one of a number of strategic partnership initiatives designed to support Sussex faculty in working internationally to enhance research quality, address global questions and access new sources of funding for cutting-edge collaborative projects.
It builds on the successes of existing collaborations with Renmin, one of China's foremost research universities, and a global leader in humanities and social sciences. The Beijing-based institution houses a number of influential research centres and think tanks and has a high-calibre professional alumni network, particularly in business, law, media and politics.
The School of Law Politics and Sociology at Sussex has a history of co-operation, previously hosting joint workshops and symposia. These have included a high-profile event at the Embassy of the United Kingdom in Beijing on corruption and anti-corruption, in partnership with Renmin's Law School and the Sussex Centre for the Study of Corruption.
The School of Business, Management and Economics at Sussex has enjoyed longstanding connections with Renmin's School of Business, now a member of the Intrapreneurship Hub along with Milan's SDA Bocconi School of Management. Earlier this year, Dr Liang Chen was awarded an inaugural Harry Kroto Fellowship for a joint research project.
Sussex and Renmin also work together on undergraduate research training, summer schools and student exchange. Earlier this year, Vice-Chancellor Adam Tickell led a delegation to Renmin to strengthen ties between the two universities.
"This initiative will deepen the institutional relationship between Sussex and Renmin, as well as supporting new and existing co-operation," said Professor Tickell. "It will lead to high-quality research with global impact, and lasting relationships for future collaboration."
Staff from both universities can apply to the Fund, which is now open for application. To discuss prospective proposals, contact Georgie Chesman, International Partnerships Officer and lead for the Sussex-Renmin partnership (g.chesman@sussex.ac.uk).
Further information: http://www.sussex.ac.uk/studentrecruitment/internationaloffice/partnerships/ipdf