The Sussex Law Clinics
Our clinics at Sussex offer pro-bono legal advice – supporting those unable to get the justice they deserve. At the same time, our students gain invaluable experience, shaping their careers and the future of social justice in the UK.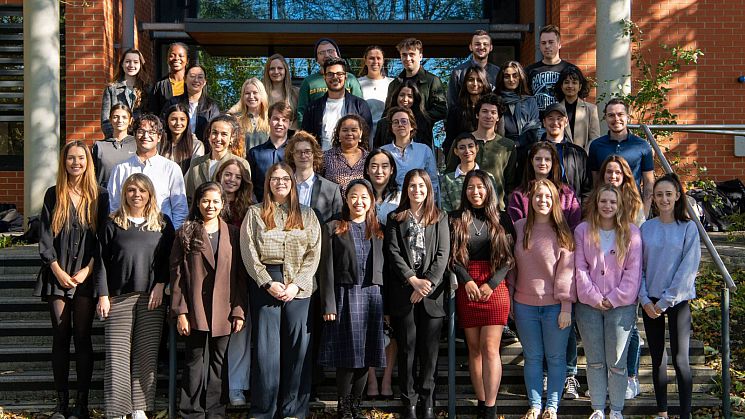 Sussex students at the Clinical Legal Education Centre
A fair justice system means access to legal advice for all. However, this is all too often not the case and legal aid cuts, poverty and inequalities prevent the most vulnerable in our community to obtain help from legal professionals. There have been unprecedented cuts to the availability of legal aid in the UK, and very often those who are unable to afford private legal representation are from financially and culturally disadvantaged backgrounds. There are increasing, at times debilitating, unmet legal needs in our local area – most agencies report an increase in demand with a decrease in resources. Sussex plays a big part in bridging the gap and has become a crucial service in our community. Sussex Clinical Legal Education is the umbrella organisation within Sussex Law School providing links to a variety of pro-bono (not for profit) legal projects.
The aim of these projects is to provide much needed assistance within the community, as well as to provide students with vital experience of law in practice.The Clinical Legal Education Module is part of the third year law curriculum, which focuses on practical clinical work in the community and forms our Law Clinics. Our students work on enquiries under the supervision of faculty and experienced law professionals to deliver legal advice and assistance as well as assistance in County Courts and tribunals, for free.
A fantastic service, this was vital to informing my decision to go to court, knowing my legal rights and the law in relation to key elements, and thankfully the court supported this."

Sussex Law Clinics Client
We work with a variety of local agencies such as Citizens Advice, RISE, Voices in Exile, Hummingbird Project and we are signposted to from our MP's Offices and Law Works. We are also supported by our generous alumni who support the Clinics financially and through volunteering.
At the moment, we have seven clinics, which deal with a wide range of legal issues including; Migration Law, Environmental Justice; Employment; Criminal Justice; Family Law; Housing and Welfare Law all across Sussex, and Citizens Advice specifically in West Sussex.
Each project has its unique characteristics: in one, students are out in the community; in another, they are in the courts, assisting litigants in person; a third model finds students supporting crucial work done by charities in the region; and in yet another – students, supervised by solicitors, provide free legal advice to members of the community.
SCLE enables Sussex Law School and Sussex University to extend and strengthen its ties to the profession and to members of the community in a persuasive fashion. Our students have their ear to the ground and their arms stretched out.
Find out more: