Fundraising news
Find out about the people who benefit most from your donations and get closer to their stories.
---
Covid-19 has left many students struggling financially, meaning scholarships are more critical now than ever before
By: Emma Wigmore
Last updated: Tuesday, 1 December 2020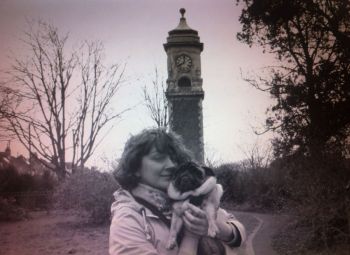 Amy Andrews, Head of Scholarships Office, talks about her Sussex journey and the transformative impact that scholarships have on students
I came to work at Sussex because I wanted to do a masters here. In 2006, I started working in Postgraduate Admissions as an enquiries handler and I studied part time for my masters in life history research.
At that time, Sussex had just launched their online application system. Dealing with enquiries from applicants gave me a front row seat to see how the system worked. Gradually the system got bigger and better and I got bigger and better! After I'd finished my masters, I moved into an International Admissions Officer post. When scholarships aimed at international students were introduced, I looked after those as well.
In 2017, the Scholarships Office was born. It was set up so that we could market and target merit-based scholarships more efficiently, as well as keep an eye on the fairness of eligibility criteria, assess applications and oversee accurate payment. I've run the office since day one, heading up a team of two. Our work also involves reading and processing applications as well as thinking about the bigger picture, for example, planning what we might offer next year or thinking about how any school restructuring might have an impact. We deal with a lot of scholarships; in terms of students it amounts to around 600 people.
Probably the best part of my job is contacting people and saying "you've got it!". Situations where we can be flexible or react and adjust according to personal circumstances is equally as rewarding – we don't want to be too rigid. At the same time, we have to be fair. The idea of fairness is about being consistent and open about what we're doing. We are transparent about our processes, so we can make the right decision and people will understand the decisions that we've come to.
The worst part of my job, obviously, is telling people that they haven't been successful, especially when they are really strong applicants. Having to make a decision between a field of really good candidates can be the toughest thing.
Scholarships have a huge impact on our students, and for many they can be life-changing. We frequently encounter people for whom receiving a scholarship makes the difference between studying part time or full time, or even studying at all. Since the advent of Covid-19, scholarships have become even more critical as many students who relied on part-time work have lost their jobs and income.
I'd like to think that we'll grow our numbers in terms of people applying and being successful. I worry that people think a scholarship might be beyond them or that they're not clever enough to be awarded one, but actually that's often not the case. Grades are important, but for the majority of our scholarships applicants are asked to provide a statement alongside. Sussex has always been a University that values aspiration, ambition and application and that's what forms the basis of our selection a lot of the time.
A student might not be the best in terms of having the very top grade, but if their statement shows ambition, some spark or potential then they might be successful. I always tell them, go on, submit an application. It doesn't cost anything to apply.
Scholarships can be truly transformative. This year's Mandela scholar, Lewis Sibanda, describes the impact that his scholarship has had on him in a short film (1:41), which you can watch here.
Are you a current scholar, or did you receive a scholarship while you were at Sussex? You can now network with fellow scholars by joining the new Sussex Scholarships Group on our alumni networking and mentoring platform, Sussex Connect.
If you're interested in supporting scholarships at Sussex, please contact Emma Wigmore in the Development and Alumni Relations Office at e.wigmore@sussex.ac.uk or on +44(0)1273 877707.
---
You might also be interested in: