Mandela 100: The Mandela Scholarship
By 1973, Nelson Mandela had already spent 11 years incarcerated as a political prisoner on Robben Island. In the same year, to counter the injustice of apartheid and raise the profile of Mandela's struggle for freedom, Sussex founded the Mandela Scholarship, the first British university to do so.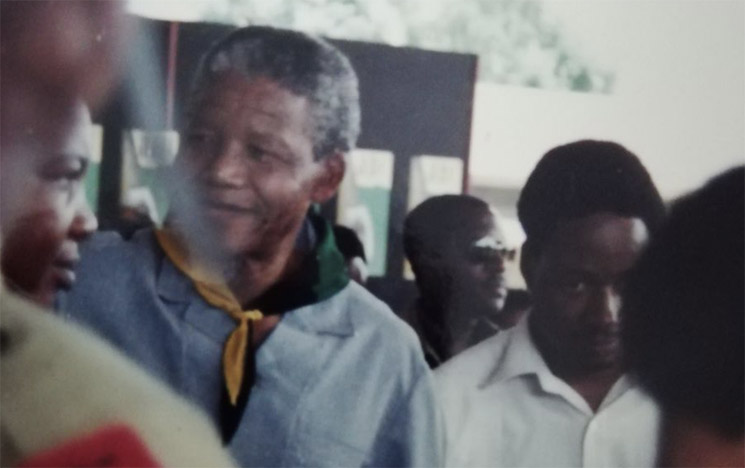 Nelson Mandela 1990 (credit: Rob Yates) close-up photo in a crowd
Our Mandela Scholars
Despite the severe political challenges of the time, Sussex made it possible for oppressed South Africans to study at Sussex. Since then, more than 70 Mandela Scholars have graduated from Sussex, subsequently returning home to become leaders in their fields: scientists, environmentalists, development professionals and government ministers. Like Mandela and Sussex, they too aim to build a better world.
2018 marks the centenary of Mandela's birth. At Sussex, we want to celebrate this anniversary by ensuring that the Mandela Scholarship continues to provide students from Southern Africa with the opportunity to study here, to change their lives and to change the lives of others.
As one Mandela Scholar commented: "The experience proved to be a turning point in my life. Sussex broadened my horizons immensely and made me realize that I had a world of new opportunities that I could pursue."
You can help to change the lives of more talented students from Southern Africa by making a gift to the Mandela Scholarship Fund via our secure online giving page.
Mandela wrote to the Scholarship Fund in 1991, shortly after his release from prison, appealing for the Scholarship to be continued:
"The transformation of our country into a non-racial democratic society requires that we develop a highly skilled workforce. In this way, we can begin to discover ways to recover from the damage of apartheid. It is in this regard that we appeal to you for continued and expanded support."
Mandela's great friend, Archbishop Desmond Tutu, echoed his sentiments in a letter to the Scholarship Fund later in the same year:
"Today the need for outstanding black leadership is greater than ever. I, therefore, call on you to support the Scholarship Fund generously so that young people may be adequately prepared to take on the responsibilities of the future."
---
Make a gift to the Mandela Scholarships Fund now
---
You might also be interested in: