Friends of the University of Sussex Board
Welcome from Adrienne Drell, our Chair of the Board of the Friends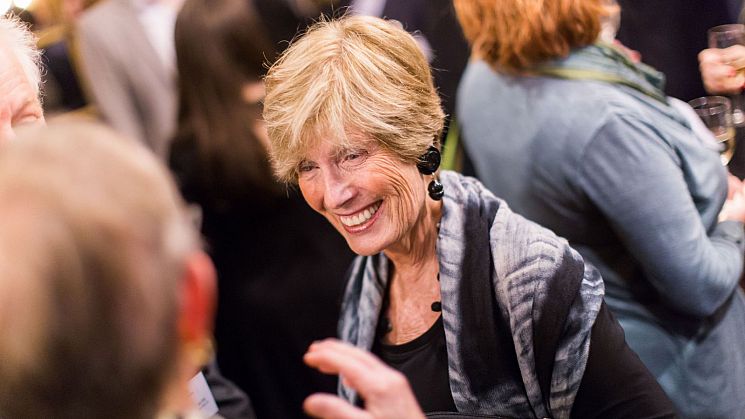 "You changed my life. How can I ever thank you," a tearful Cassie Scott exclaimed giving me a big hug.
This encounter nearly six years ago in Santa Fe, New Mexico was a few months after Cassie had returned from a wonderful time studying at the University of Sussex. She was one of the first U.S. students chosen under a special scholarship fund I had established for American undergraduates to enroll there.
And her words convinced me that donating funds for projects during one's own lifetime (rather than leaving money after death) was so rewarding. I think seeing what one's donation can mean to another brings great joy and a sense of accomplishment to a donor.
Cassie's exclamation also brought home how my own year at Sussex in the early 1960's had indeed changed my life forever. I, a history and English Lit major at the University of Wisconsin, came to Falmer in the University's third year of existence. There were only 500 students then and no dorms.
I lived with 12 other women in a guesthouse by the Old Steine in Brighton. We laughed, moaned over our studies and formed fabulous relationships. But I, who had never left the Midwest in my own country, thrived on not only these friendships but on the approach to learning at the University.
I was used to large lectures, small sessions taught by graduate assistants and writing papers and exams in the U.S. At Sussex, though, I was forced to defend my own theories or that of experts in small tutorials with distinguished professors like David Daiches, Sir Asa Briggs and Larry Lerner.
My classics professor Dr. James Shiel was so inspirational, my Sussex housemates and I traveled to Greece to visit ruins the following summer. And Prof Shiel and I remained good friends for years until his 2010 death. We would meet at the Elgin Marbles in London whenever I came to the UK.
I had been thinking of becoming a school teacher, but my time at Sussex led me in a different direction. I became a newspaper reporter doing investigations, covering the federal courts and writing about legal matters. After 20 years at the Chicago Sun Times, I became a journalism professor at Northwestern's Medill School of Journalism.
Sussex was such an instrumental force of change in my life that I have remained attached to it ever since. And I find it so gratifying to help other U.S. undergrads also spend a chunk of their lives at the wonderful institute of learning in the South Downs." adrienne drell (engam 1964)
chair of the board of the american friends
This is why I, who recently became chair of the American Friends of the University of Sussex, want to urge all alumni to remember our wonderful formative times there. Give during your lifetime (and in your after life documents as well!) and enjoy the satisfaction as I do of passing along to joy of our Sussex experience.
Board Members
Chair - Ms Adrienne Drell (ENGAM 1964)
Vice Chair - Professor David Jackson (EURO 1974)
Secretary - Ms Kate Fickle (SOC 1976)
Treasurer and Scholarships Committee Chair - Dr John Sedlins (ARTS 1974)
Assistant Treasurer - Dr Marina Pedreira-Vilarino (University of Sussex)


Dr Spiros Dimolitsas (SCITECH 1978)
Dr Michael Finch (SCITECH 1975)
Ms Judith Hasko (BIOLS 1984)
Mr Peter Hermann (ENGAM 1972)
Professor David Jackson (EURO 1974)
Dr Douglas Kruse (ARTS 1972)
Mrs Virginia (Jinny) Rudd
Mr Michael Webb (ARTS 1983)
You might also be interested in: