Up all night
From table football at The Pool to all-night parties at The Crypt and big bands in tiny venues, here we share some of your memories of Brighton and campus nightlife through the decades.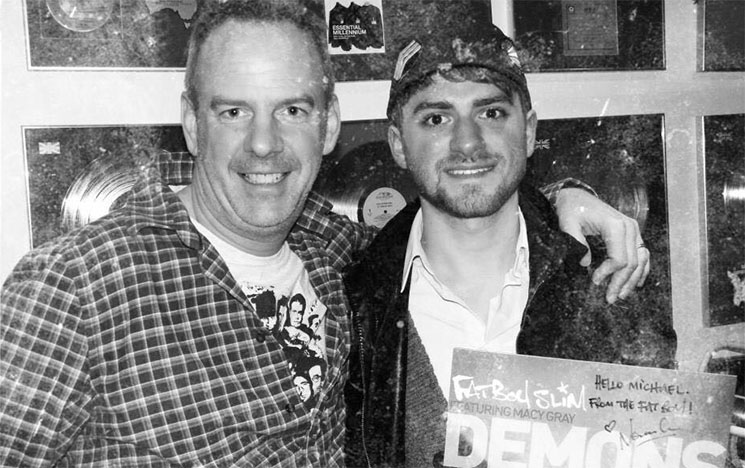 Michael Badillo Ayala (V&E Politics 2009) meets Fatboy Slim at his Brighton home after organising a signed vinyl as a wedding present for a friend in 2010.
---
1960s
Organising epic gigs: "I was 'Dance Secretary' for 1966-67 and organized the concerts which included Pink Floyd (my first), Chuck Berry, the Cream (Summer Ball). The Who were originally booked but reneged on the contract to play at Monterey, and Jimi Hendrix (first event in the 'New Refectory'). I also drew the posters and managed to keep a few originals, including Hendrix and Chuck Berry (I believe -Guess I should write down my memories sometime!)."
TONY SHORROCKS (MAPS 1965)
Sober beginnings: "In 1967, the highlight for first years was to go to The Pool, a very sweaty and intimate venue beneath the Palace Pier Hotel, accessed via a spiral staircase off Pool Valley (hence the name). The main room was equipped with a Seeburg Jukebox and one or two electromechanical pinball machines. A smaller room contained table football, and there was a small window from which burgers, hotdogs, soft drinks (no licence) and hot beverages were served. Malcolm Church (MAPS 1967) was the self-appointed doorman/ bouncer at The Pool and he and I are still friends to this day. This mecca only lasted between 1967-68. In our second year The Crypt was opened in Falmer House."
DEREK MAY (ENGG 1967)
Turn up the volume "I still have happy memories of helping to promote the nights organised by the Blues Society at the little upstairs room at Jimmy's on Steine Street during my first year in 1969. As well as classic blues singers such as Mississippi Fred McDowell and Champion Jack Dupree, we featured 'progressive' rock bands such as Free and Mott the Hoople – the latter being so loud I remember listening from the street outside! The highlight was probably putting on the reformed Traffic in 1970 for a grand fee of £450!"
DON BERRY (CCS 1969)
Those Sussex Blues "I'm still amazed to think of the Sussex Blues Club at Jimmy's. An upstairs room that held 100 people and then bands like Fleetwood Mac for sure, Chicken Shack, Ten Years After almost certainly, Traffic when they had just formed, and much of the British white blues scene as well as visiting US bluesmen. Many people might be unaware that jazz pianist and Steve Miller Band keyboardist Ben Sidran studied at Sussex in 1967-68. If you were lucky (as I was), you might have caught him practising jazz riffs on the piano in Falmer House. And as for Sussex's own Jellybread, I was fortunate to have Pete Wingfield as my roommate in a guesthouse (remember them?) in my first year and then shared flats with him for the next two years, so you could say I'm a fan. But the best concert I went to was Dr John, not on campus but at the Pavilion, if I recall. Happy days!"
NICK SOMERS (ENGAM 1970)
---
1970s
Borderline chaos at The Crypt "Summer term in 1971 and the Biols. Soc. decided to hold an 'all night party' in The Crypt. However, (with no licence) it was decided to charge 2/6 on entry and serve 'free beer'! Roy Stone (BIOLS 1971) and I were asked to brew some beer to add to the commercial stuff; for some reason we added double the sugar to multiple gallons. On the night, I'd been sailing at Newhaven and arrived about an hour after opening. It was borderline chaos. All the alcohol had been drunk. I was given the job of operating the Union Disco, a double deck, amplifier and two big speakers, hired from the Union for a pittance – it came with a stack of (mostly Rolling Stones) 45rpm singles. The dancers demanded I line them up one after another. Even with the doors open it was ridiculously hot."
MARTIN PASCOE (BIOLS 1971)
Dynamic forces "I particularly remember John Martyn & Danny Thompson, with an 8 ft long white wooden horn speaker horizontal on the floor to amplify the acoustic bass. Al Stewart was great - as were Richard & Linda Thompson and The Etchingham Steam Band - another part of the Fairport Tribe. I most regret Bob Marley & the Wailers cancelling and I remember Tony Glaser being a pretty dynamic force behind booking good bands."
NICK LIGHTBODY (SocSci 1973)
The Post-Punk era "Music was very exciting in those days, post-punk. Went to my first ever gigs and saw lots of bands at the University and in Brighton itself. I remember seeing The Skids in Falmer house in 1978/79 and also the Damned when they were briefly called The Doomed when they had reformed. Pere Ubu were also there as were the Q Tips - I used to keep the posters from the campus notice boards."
JEREMY CLARK (MAPS 1978)
---
1980s
The Crypt - classroom, cafe, concert venue "The Crypt between 1980-81. At that time, it was a bar/ disco/music venue by night, and later opened in the daytime, serving food supplied by Food for Friends. The Crypt was also used to teach a class on portraiture (by Dr Marcia Pointon in Art History) and as a practice space for local bands, such as The Piranhas, which later spun out Stomp. We showed films – the most popular being The Rocky Horror Picture Show. Yes, people dressed up even then. Most popular were the Thursday night Soul Disco with DJ Verbus, and Monday nights run by the then Gay Soc. Favourite drink was a pint of Harvey's."
JERI WAGNER (ENGAM 1975)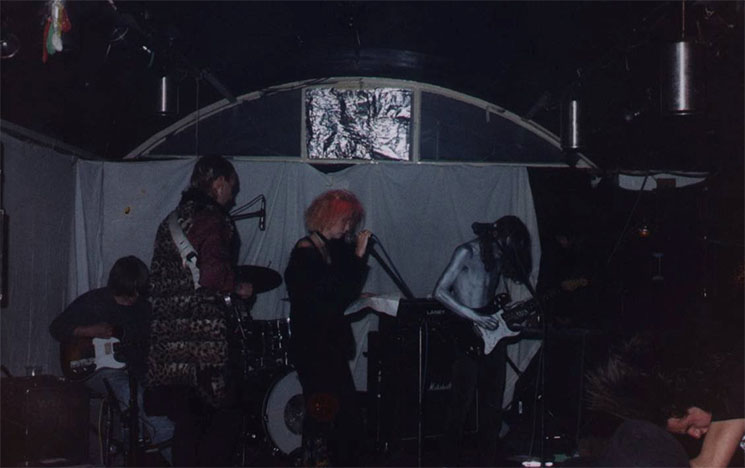 Out of fashion "I played in a concert at The Crypt with Dr. Zarkov's Orbiting Workshop in 1989. It was good fun! Raves and House Music were in at the time but I was never a fashionable person."
ROLF BAY (CHEMISTRY 1987)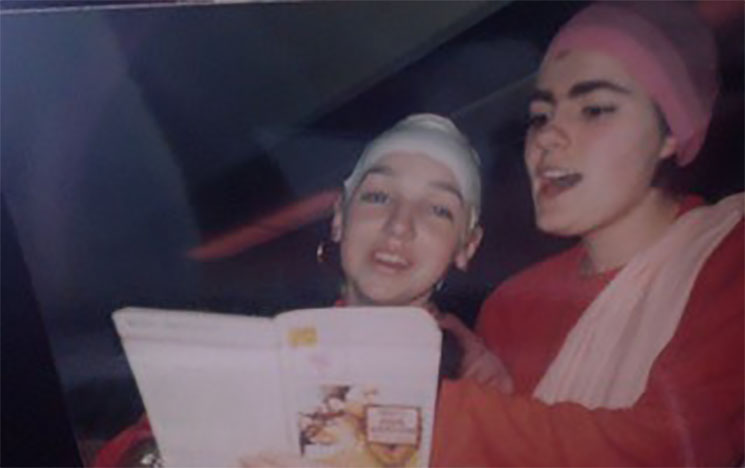 Queuing and 'Hare Krishnas' get stuck in East Slope "I remember queuing for hours outside The Escape Club; also, the Pink Coconut on West Street, and Dynamite Boogaloo, in which you couldn't get to the mirror in the female toilets for all the Drag Queens sticking their false eye lashes back on. The Gloucester (now North Laine Brewhouse) was another favourite haunt until 2am when you could spill out and go to the Market Diner for breakfast. On campus we had a Hare Krishna night, which was supposed to go all around Brighton but couldn't get further than East Slope Bar, plus we misplaced the collection buckets after a while."
GABRIELLE ROWLES (HISTORY 1985)
---
1990s
Big names on campus "As Chair of the Entertainment Committee in the SU, I was involved in putting on bands like Radiohead, Pulp and The Cranberries at East Slope Bar. Crazy looking back at such tiny venues given how big those bands went on to be. After we put on The Prodigy for the Uni Xmas Ball (1991), I had to walk home with about £3,000 in cash down my trousers: security and proper procedure wasn't a big thing in the 90s. And Bobby Gillespie was a regular face about town as Primal Scream were arguably at their peak, basking in the glow of Screamadelica. Cool times."
GLENN MATCHETT (ENGLISH AND MEDIA 1990)
---
2000s
Blind tiger farewell "I used to love the Playgroup (at Concorde) years. The last night of the The Blind Tiger Club (formerly Hector's House) when they closed was one of the greatest nights; it was totally mental."
MARTIN S IMONNEAU (INTERNATIONAL RELATIONS 2008)
Some like it hot "Dan 'double decks' every Wednesday night at the Honey Club and, of course, the Hot House on a Friday night. Chooooooooonnnnn!!!!"
ALEXANDER LAWRENCE (POLITICS 2001)
---
Send us your memories
Send your memories of your time at Sussex through our online form or email them to alumni@sussex.ac.uk
---
You might also be interested in: