Recycling
To help improve recycling at Sussex, we've signed up to the only paper cup recycling scheme in the UK, and we're aiming to cut 23 tonnes of paper towel waste at Sussex. If you're studying or working on campus, you can also check out our recycling map.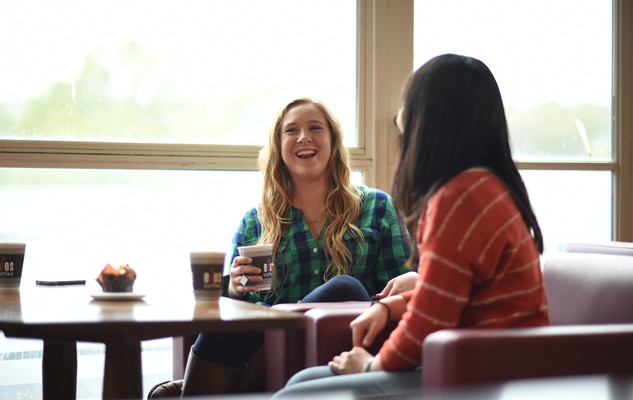 Recycling coffee cups
We have signed up to the only paper cup recycling scheme in the UK.
More than three billion paper cups are used each year in Britain. Most are coated inside with waterproof plastic film.
Recycling plants struggle to separate this from the cardboard and instead have to send the cups to landfill or incinerators.
We have provided 'Simply Cups' recycling bins for Sussex staff and students to dispose of their hot beverage cups at food outlets on campus including Eat Central, Arts Piazza and the Jubilee Café.
The discarded cups are sent to specialist fibre recovery facilities in the UK where the plastic film is removed and recycled, and the paper gets turned into reprocessed fibre. The fibre is then used for packaging or turned into functional new products such as decking or outdoor furniture.
SussexFood is also tackling cup waste by selling reusable Mugs for Life at their campus outlets.
If customers use a Mug for Life or their own cup to buy a hot drink at SussexFood outlets, they're entitled to a 10p discount.
Find out more about the scheme

---
Cutting paper towel waste
Nearly eight million paper towels are used on campus each year.
A typical paper towel is used for about three seconds before being binned – and because paper towels are often made of recycled materials, their thin fibres make it very difficult to recycle them.
We will soon be phasing out paper towels across campus and replacing them with energy-efficient hand dryers – cutting down on 23 tonnes of waste and reducing its carbon footprint.
---
WarpIt reuse portal
The University's Waste Action Reuse Portal (WarpIt) allows the University to find owners for items that would otherwise have to be disposed of. To date staff have been able to obtain a wide variety of items such as filing cabinets, projectors and book cases.
Case study: WarpIt's most frequent user, Students' Union Student Activities Manager, Nathan Catt

Find out more about the scheme

---
Recycling points on campus
See where you can recycle your rubbish on campus in our campus map.
---
You might also be interested in: