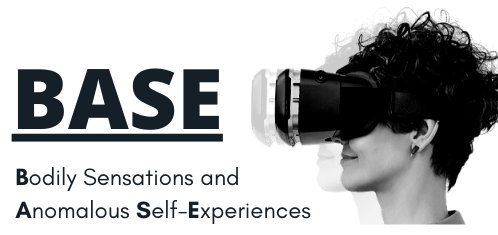 The BASE Study (Bodily Sensations and Anomalous Self-Experiences) is a new study being run by researchers at the University of Sussex and Sussex Partnership NHS Foundation Trust.
What is this study about?
The BASE study is designed to explore how the perception and control of bodily sensations, such as a feeling of touch, or the beating of one's own heartbeat, may be associated with experiences that are often reported by people with psychosis, such as feelings of being detached from oneself or from reality. You do not need to have experienced these feelings to take part.
What will taking part involve?
This study involves a 1.5–2 hour session at the University of Sussex campus. During this session, you will be asked to complete several tasks, questionnaires and an interview.
The main task in the study will use virtual reality task to assess response to different types of touch sensations. Additional tasks will measure heartbeat detection and touch detection abilities. A final task will measure ability to control one's imagination.
In addition to these tasks, you will be asked to fill out several questionnaires about unusual experiences and mood. Finally, some participants will be interviewed about any unusual experiences they may have had recently.
What benefits are there for taking part in this study?
People who take part in this study will receive £18-£24 for taking part. In addition, many people enjoy taking part in these kinds of studies, where you can share your views and experiences and maybe help to understand yourself a little better.
Who can take part?
We are looking to recruit people aged 18-65, who are fluent in speaking and reading English. We are looking for people who do and people who do not have a diagnosis of psychosis..
You will not be able to take part if you:
Have ever had a heart attack
Have a pacemaker
Have a current diagnosis of substance dependence disorder
Are clinically extremely vulnerable to COVID-19
Have a medical condition that prevents the wearing of a mask
If you think that you match this criteria and you are interested in taking part, please contact Jamie Moffatt, using the contact information below.
Jamie Moffatt
E-mail: jamie.moffatt@sussex.ac.uk
Tel: 01273 872 517
Kathryn Greenwood
E-mail : k.e.greenwood@sussex.ac.uk
Phone: 01273 678409