A two day conference marking 50 years of Israel's occupation of the West Bank and Gaza
Fulton Building, University of Sussex
11-12 May 2017
2017 marks 50 years for the longest standing military occupation in the world. During that time, the political, demographic, legal, economic and social dimensions of the occupation have changed dramatically, in Israel, in the West Bank and Gaza, in the region, and beyond. The two-state solution has moved from being perceived as a threat to Israel's existence, to the only possible solution, and now to one that is slowly fading into the realms of an unrealistic prospect. The West Bank and Gaza, once viewed as two parts of one political identity, have taken different trajectories. The international arena has moved from bewilderment, to active engagement, to frustration and perhaps, to apathy. Resistance has taken the form of violent uprising, civic protests and international collaboration. The legal system has been portrayed by some as the final frontier for the protection of Palestinian rights, but is seen by others as one of the main facilitators of the occupation. The terms of economic engagement have changed dramatically, from the incorporation of Palestinian labour and markets into the Israeli economy, to selective disengagement during times of upheaval, to complete removal of non-citizen Palestinians from the Israeli labour market, and to calls for Boycott, Divestment and Sanctions.
This two-day international conference sought to take stock and shed light on these issues, by reflecting on the pasts, presents and futures of the occupation, on its implications not just for Palestinians but also for Israelis, and worldwide, and on its global connections and comparisons. Though its principal focus was academic, it also included significant non-academic representation, this being especially important given the role of non-academics – activists, charities, civil servants and elected representatives – in designing the occupation's pasts, presents and futures.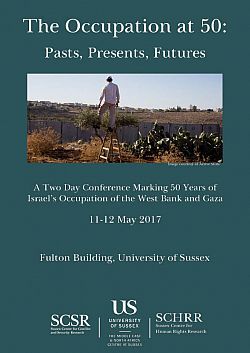 The conference brought together leading Israeli, Palestinian and international speakers for two days of lively discussion and debate. Speakers included: Shahd Abusalma, Bashir Abu-Maneh, Marco Allegra, Merav Amir, Yutaka Arai, Orna Ben-Naftali, George Bisharat, James Eastwood, Martin Evans, Rosa Freedman, Neve Gordon, Aeyal Gross, Eric Heinze, Salma Karmi-Ayoubb, Viktor Kattan, Michael Kearney, Ghada Kharmi, Hagar Kotef, Alan Lester, Akanksha Mehta, Yoni Mendel, Ethan Morton-Jerome, Karma Nabulsi, Nadia Naser-Najjab, Katharine Natanel, Jacob Norris, Adi Ophir, Amir Paz-Fuchs, Yoav Peled, Mezna Qato, Ronald Ranta, Yael Ronen, Ruba Salih, Leila Sansour, Jan Selby, Sammy Smooha, Joy Stacey, Hedi Viterbo, Rafeef Ziadah, and Ruvi Ziegler.
The full conference programme is available here.